Results of the Best Sustainable Development Article Award 2018
Click on article name to read full article
Click here to read more about article criteria and process of selection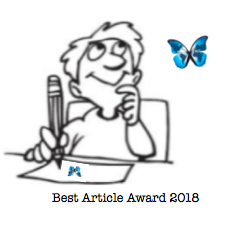 Winner of the Best Article Award 2018
Nhamo, G., Muchuru, S and Nhamo, S


"We consider ourselves honoured to be selected to receive this prestigious award, thus, the International Sustainable Development Research Society (ISDRS) Best Sustainable Development Article Award 2018. The Award is in recognition of our paper "Women's needs in new global sustainable development policy agendas", published by Wiley in the journal 'Sustainable Development'.
It is therefore with much pleasure and gratitude that we gladly accept this award and proudly join the past recipients who are frontrunners in shaping the sustainable development trajectory. This award for the 1st position recognises the value of work we have done to promote women and girls in the global sustainable development agendas. In addition, the award publicly displays the quality scholarship from our team and the University of South Africa based in South Africa.
We are confident in the work that we are doing, yet we are very much humbled by this gesture. We do not doubt that there are many other individuals out there equally worthy of this recognition. Lastly, we wish to thank those who nominated and supported our article, the ISDRS members who voted for this article and the Award Jury that evaluated the 10 shortlisted papers. Many thanks to the Conference participants for celebrating with us on this occasion. May we all continue to push the gender dimensions in all global development agendas, specifically recognising the role of women and the girl-child.
Thank you all!"


Godwell Nhamo
Author
First Runner up
Fritz, L., and Binder, C.

"We are very pleased that our article has been nominated for this award and are happy that a relational approach to participation is finding interest within ISDRS community! We thank the Award Jury as well as all ISDRS members and followers and look forward to engaging in future discussions about sustainable development within the ISDRS community!"


Livia Fritz
Author
Second Runner up
Wastling,T,. Charnley, F,. and Moreno, M.

"I am honoured to receive one of the highest numbers of votes for the ISDRS Best Sustainable Development Article Award 2018. My article makes the case for expanding the current narrative around circular design, moving beyond technical design approaches and appreciating the effect that the design of products, services and systems have on user behaviour. This work provides an initial step towards understanding the role of user behaviour in transitioning to a circular economy, providing a model for how to design practical behaviour change strategies. It builds on and brings together amazing work by researchers working across circular design and design for behaviour change. I'm excited to see how this research evolves, in what is a rapidly growing area.
I like to convey my gratitude to judging panel and ISDRS members who voted for this article. I would also like to thank the team at The Ellen MacArthur Foundation and the Cranfield Centre for Design. Without their support, this work would not have been possible.'


Tom Wastling
Author