ISDRS NEWSLETTER, 2019 Issue 4
Editors: Olawale Olayide, Marlen Arnold
Email: newsletter@isdrs.org
Dear reader,
We hereby like to bring you the latest information about recent activities and news about our Society and direct your attention to interesting developments and up-coming events.

CONTENTS
1. Message from the President
2. Announcements
3. Calls for papers, session proposals and abstracts
a. Special Issue "Circular Economy in Small and Medium Enterprises"
b. The Interconnections for Making Africa Great, Empowered and Sustainable (IMAGES) Initiative
4. Circular Economy in focus: Opening of the "Christian Doppler Laboratory for Sustainable Product Management in a Circular Economy" at the University of Graz
5. Is your own house on fire?
6. Transforming Policy Making for Value Added Energy Systems of the Future in Sierra Leone
7. Sustainability, institutional collaboration and digitalization: the three pillars of the future university environment
8. Sustainable Success: A story of a man who was able to conquer the hierarchical ladder the fastest and the most efficient way possible
9. Australia deregulates some genetically modified organisms (GMOs)
10. The views of non-governmental organisations (NGO's) on genetically modified (GM) food safety
Colophon

1.
Message from the President
Sustainability issues are high on the political and media agenda at the moment, with the Climate Change Conference currently taking place in Madrid following on from the optimistically named Climate Action summit in New York. Climate demonstrations are becoming commonplace, indicating a strength of feeling amongst some segments of the population (the representativeness of which are hard to judge). How can this level of public activity and high-level political attention be converted into an effective response? Writing from a country where the national media are discussing how the Prime Minister tells lies, with no apparent alarm from either his lawyers or voters, it is difficult to remain optimistic about the ability of politicians to put in place a meaningful response to climate change. Moreover, whilst noting that a media free to express opinions must be preferable to one that is not, one can question how much that expression achieves. There is a risk that we are entering a phase where heightened alarm around climate change is normal without results – somewhat of a Climate War equivalent to the Cold War. The apparent ending of the latter brought about a rather brief respite from security concerns. This could hardly be otherwise, given that underlying global-scale issues of inequality and uneven development had not been dealt with – aside from any ideological differences. These issues are not any less relevant in the context of climate change than of geopolitical hegemony.
Alongside the need to consider our own individual actions, there is an essential requirement for researchers to provide a critical understand and contextualization of events and proposals. Estimates of rates of climate change and potential effects are highly significant, but the complexity of the challenge comes not from the equations of meteorology but from the conflicting interests around potential solutions. No one person, or indeed project, can address the scope of issues required alone.
Thus, unsurprisingly, I conclude that organisations such as our own have an essential role to play – partly by supporting each other as we each engage in our own more local elements of the global situation. We should also seek to identify some common sentiment seeking to hold our so-called leaders to account.
Although reasons to be optimistic are not so easy to find, one is the long list of people I would like to thank for their support and contributions to ISDRS this year. See below the names of people involved in the various sub-committees of the board (executive, board election, best paper award, newsletter). This is not to forget the rest of the board, who chair conference tracks or contribute to the PhD student workshop. Non-board members are also very welcome to volunteer for the best paper award committee, or to support the newsletter editors. Thanks are due to audit committee for their scrupulous work; they are independent of the board and volunteers to take on this role in the future would be much appreciated. A number of board members are currently up for re-election; I thank them all for their contributions so far, as we wait to see who is re-elected. I would like to thank by name three board members not standing for re-election: Harn-Wei Kua, Tomás Ramos and Joachim Spangenberg. In particular Tomás Ramos and Joachim Spangenberg have made outstanding contributions over the last six years, not only to general board activity, but Tomás hosted the splendid 2016 conference in Lisbon, and Joachim devised the best paper award and certainly won't be forgotten by anyone who has seen his presentations of the award. I'm pleased to say that Olawale Olayide has been re-elected as communications officer and finally, many thanks are due to Charlotte Mummery for her superb support as board assistant.
Cheered up now, if awed by the collectively activity, I am very much looking forward to our conference in Budapest next July. Grateful also to Gyula Zihay for his work towards the conference, I leave him tell us (below) what we can look forward to, and encourage all of you to participate.
With all good wishes,
Pauline.
Exec: Peter Dobers, Volker Mauerhofer, Sigurd Vildåsen, Olawale Olayide
Newsletter: Editors Olawale Olayide, Marlen Arnold
Election committee: Volker Mauerhofer, Cecilia Solér and Rupert Baumgartner
Best Paper Award committee: Joachim Spangenberg, Marlen Arnold, Walter Vermeulen, Tomás Ramos, Arunaditya Sahay, Olawale Olayide, Anne Wallis.
Audit committee: Sjors Witjes; Arunaditya Sahay
Other board members: Marlen Arnold, Francisco Comín, Alexandra Franklin Janaina Macke, Roberto Merli, Roberta Salomone, Walter Vermeulen, Eduardo Wills Herrera, Marc Wolfram.

a. ISDRS 2020 Call for the submission of abstracts
DEADLINE 15th December 2019
Visit the conference website to learn more about submitting your abstract, themes and tracks and view the guide for authors.
b. News

from

Budapest,

host

of

the

26th

annual

conference

of ISDRS
Over the past few months, the organisation of the next annual conference of ISDRS to be hosted by the Budapest University of Technology and Economics in Hungary has passed an important milestone: the Call for abstract has been announced on the the web page of the conference. Experienced and new chairs have contributed to the session descriptions, which are available under 'Themes and tracks' and the Ex Ordo site has been prepared to accept submissions.
The conference encourages submissions, which aim at identifying the sustainability implications of major, systemic changes in our societies and address the relevance of the concept of Sustainable Development with regard to these. Authors can submit abstracts to the 31 tracks until the 15th of December when they will be allocated to session chairs for review.
You can submit your abstract here.
Further, information regarding invited keynote speakers, the registration fees and information about the venue will also appear soon on the conference website. We encourage all members of ISDRS and every sustainability expert to join us in Budapest for a successful conference in July, 2020
c. ISDRS Board Membership Election
Green + members, please remember to vote for the ISDRS 2020 board, visit here to see candidates bios. The poll closes on 9th December, the results will be announced shortly after. Don't forget you must login to your ISDRS account to be able to vote.
d. Nanjing University Postdoc opportunities and special issue "Sustaining Resources for the Future"
Led by Pro. Zengwei Yuan, the research group focuses on circular economy, zero-waste community, and life cycle assessment, at the School of the Environment, Nanjing University, has 2-3 postdoc and associate researcher positions available in circular economy and zero waste community. Please send your CV to yuanzw@nju.edu.cn, if you are interested in these positions. Details about the group can be found http://www.njuliee.com or http://mce.nju.edu.cn
The research group above is holding a special issue with the theme, "Sustaining Resources for the Future", at the Journal of Cleaner Production. The call for paper is located here and the submission deadline is extended to December 31. Welcome contributions!
The research group is initiating a series of workshops (two times a year) on academic training around sustainability. We hope all the participants to the workshops would not only get the improvement in their academic skills, but also the cooperation opportunities among the peers. We warmly invite scholars and experts from all the world to contribute to this workshop with their expertise. The first workshop on Multi-Regional Input-Output Modeling and academic writing will be launched on April 2-6, 2020, in Lishui Institute of Ecology and Environment, Nanjing University, Nanjing, China. If you are interested in giving lectures at the workshops in future, please contact Tianming Chen (chentm@njuliee.com).
e. Join the Global Sustainability Community at SRI2020
The inaugural congress of Sustainability Research and Innovation, SRI2020, will be held in Brisbane, Australia from June 14-17, 2020 at the Brisbane Convention & Exhibition Centre.
This first-of-its-kind event, established by Future Earth and the Belmont Forum, will gather together academia, business, NGOs, foundations, governments and other change-makers in one common goal: to meet global sustainability challenges. This event series has the ambition to become the annual focal point for sustainability communities, by bringing science, innovation and policy communities together from around the world to share successes, discuss critical issues, and solve the toughest sustainability challenges.
The SRI2020 event in Brisbane is supported by a local consortium including: Future Earth Australia (hosted by the Australian Academy of Science), CSIRO, the University of Queensland, Queensland University of Technology, Griffith University, James Cook University, and the University of the Sunshine Coast.
Registration will open in January 2020. For more information, visit the SRI2020 website here.

3. Calls for papers, session proposals and abstracts
a. Special Issue "Circular Economy in Small and Medium Enterprises"
We are currently running a Special Issue "Circular Economy in Small and Medium Enterprises" in the Journal Sustainability (Impact factor 2.592, https://www.mdpi.com/journal/sustainability) https://www.mdpi.com/journal/sustainability/special_issues/SME) as, guest editor.
We would like to extend an invitation to publish a paper in this Special Issue (https://www.mdpi.com/journal/sustainability/special_issues/SME).
The circular economy is a paradigm that aims to generate economic prosperity, protect the environment, and prevent pollution in order to facilitate sustainable development through creating and maintaining value in the economy, encouraging regenerative innovations, and closing the energy and material loops.
Considering that linear business models predominate in firms, the transition to a circular system will require guidance and examples of successful cases for the benefits and advantages of the CE to become accepted and for the methods of application for sustainable production and consumption to become well known. This support is especially important in the case of SMEs, which have become highly important because they make up 95% of companies in the Organization for Economic Cooperation and Development (OECD) member countries (OECD, 2017). However, such organizations have to deal with technological, financial, and human resource barriers against circular economy implementation.
We are seeking contributions reflecting different perspectives and methodological approaches that explore circular economy applications, methodologies, and practices in SMEs. Contributions from all sectors are welcome, from manufacturing to services industries and both public and private. Empirical contributions are encouraged as well as theoretical and conceptual papers which address circular economy in SMEs.
If you have a manuscript, or an idea for a manuscript, that is in search of a publication outlet, we hope that you will seriously consider submitting it to this Special Issue. The submission deadline is 31 May 2020. Of course, if you have a paper ready or close to completion, at this time, the journal portal is currently open for submissions. Instructions on how to submit a manuscript can be found here.

Presents Circularity Africa 2020
* Conference * Exhibition * Tour * Awards * Networking
Theme: Enabling Green Businesses and Circular Economy in Africa
Date: 13-15 May 2020
Venue: International Conference Centre, University of Ibadan, Ibadan, Nigeria
Preamble:
Circularity is a paradigm shift in sustainable development practice. It offers a great opportunity for enabling green businesses and circular economy by ensuring sustainable transformation pathways and closing the loop as against linear models of development. Circularity Africa 2020 will bring together over 1,000 thought leaders and practitioners, including governments, politicians, policymakers, researchers, manufacturers, business owners and entrepreneurs to explore opportunities for enabling circular economy in Africa through the instruments of the African Continental Free Trade Area, Sustainable Development Goals, Africa Agenda 2063 and other Multilateral Agreements.
Sub-themes:
• Policies and multilateral agreements
• Green business models and inclusivity
• Extended producers' responsibility
• Material recovery, recycling and repair
• Digital revolution and supply chain management
• Responsible production and consumption
• Eco-settlements and eco-industrial parks
• African Continental Free Trade Area
• Public-private partnerships and trans-boundary trade flows
• Corporate social responsibility and corporate sustainability
Submission of abstracts and full papers:
Abstract (200 to 300 words in length) should draw on empirical research with clear implications for policy design and implementations relating to the circular economy. Case studies are encouraged.
Submit your abstract via: http://imagesinitiatives.org/circularityafrica2020.
Selected papers will be processed for publication as Special Issue in Business Strategy and Development (https://onlinelibrary.wiley.com/journal/25723170) which will be released in
December 2020.
Registration:
Registration fee is USD 200 for regular participant while student registration is
USD 100 (student must show evidence of current registration and letter of support endorsed by academic supervisor). Participants from Nigeria may pay local equivalence of the rates.

4. Circular Economy in focus: Opening of the "Christian Doppler Laboratory for Sustainable Product Management in a Circular Economy" at the University of Graz
In an effort to support the ambitious Circular Economy Strategy action plan adopted by the European Union, the "Christian Doppler Laboratory for Sustainable Product Management enabling a Circular Economy" (circular.uni-graz.at) acts as a creative space for developing and conducting research in sustainable product management, the results of which will support the transition toward a circular economy. This laboratory is working in collaboration with Altstoff Recycling Austria AG (ARA) and iPoint, a company which offers software solutions and consultation services for sustainable product management.
The vision of the research in this laboratory is to support companies with new and improved methods and frameworks that allow these companies to maximise the sustainability performance and circularity of their products and services. To realise this vision, basic research in the fields of sustainability sciences and social sciences is needed
• to operationalise the generic meanings of Sustainable Development and of Circular Economy on the corporate and product level (sustainable product management),
• to use the full potential of digitalisation for sustainable product management, and
• to understand decision making processes in companies and in supply chain networks as a basis of a lifecycle-wide implementation of sustainable product management.
The research activities are structured in three workpackages. The first workpackage focuses on definitions, requirements and regulations related to circular economy and sustainable development. The outcome of this workpackage is the basis to define sustainable product management based on an operationalisation of circular economy and sustainable development. The focus will lie on the automotive and the packaging industries.
In the second workpackage it is researched how data management can be used for sustainable product management. It will be researched which data types and formats can be used to collect information about sustainability and circularity of automotive products and of packaging products, how these data can be quality assured and how these data can be aggregated and interpreted based on accurate key performance indicators. The role of new technologies like Internet of Things or big data analysis is integrated in these research activities.
In the third workpackage, the two central activities of sustainable product management, i.e. sustainable design and sustainability assessment of products, are in the focus. It will be researched how these activates can be improved with an optimised data management to allow companies to design products which are sustainable and circular and to use optimised sustainability assessments for product related decisions.
In summary, the research in this laboratory will result in methods and concepts for the collection and use of environmental and social data from circular product lifecycles in sustainability assessment and design.

5. Is your own house on fire?
André Francisco Pilon
International Academy of Science, Health & Ecology
The fire is not on your own house, it is in the vicinity, it is your neighbour's house that is burning, but, despite the fact that all the neighbourhood could be set on fire due to the strong winds that propagate the flames, the owner would not extinguish the fire, because he says his ownership "rights" would entitle him to decide what he wants to do with his propriety, (maybe his insurance will pay more for the damage than his house is worthy of if conserved intact). But is this argument defensible? Would not setting fire to own property (or leaving it unattended) be arson?
Although all mankind could be affected by the way the environment is treated in a global scale, some countries still use the pretext of "sovereignty" to disregard common collaborative partnerships towards the observation of basic ecosystems policies and norms object of international agreements and recommendations. They argue that participation in and observation of international treaties should be in a "volunteer basis", and give priority to biased concepts of "development" which oppose economy and ecology.
Academic reports and conceptual frameworks, by themselves, are not powerful enough to prevent aggressively backsliding on commitments to international agreements. Scholars, academicians, policy-makers, community groups, civil, non-profit organizations, students, youth movements, activists and practitioners should be engaged in a global network to build social consensus in view of climate action and environmental problems, encompassing meaningful shifts in attitude, norms and behaviours, including the role media, advocacy and communication.
Global inequalities cannot be solved by market-based solutions or isolated public or private initiatives; the dynamics that sustain lock-ins and barriers to change are linked to the paradigms of growth, power, wealth, work and freedom embedded into the political, technological, economic, social, cultural and educational institutions. Changing asymmetric power relations and resource distribution is mandatory: wealthy elites, multinational corporations, use their economic and political power to control government policies and entrench their goals.
Biocultural landscapes are affected by the deterioration of the state, by vested interests, corruption, lack of pluralism in decision-making, asymmetries of knowledge and power, unequal sharing of benefits. Aligned to "entrepreneurship" and "development", education and mass communication only accommodates people to the prevailing order, "social inclusion" do not prepare them as agents of change: once "included", egocentric producers and consumers reproduce a system that perpetuates the destruction of cultural and territorial basic relationships.
Challenges are more civic and political than technical: building relationships and policies are linked to the build up and full-fledged development of institutional capacity, judicial neutrality, informational transparency and social spaces for civic engagement. International treaties should hold transnational corporations to account for environmental violations; States must oblige corporations in their countries of origin and in their operations worldwide to comply with their environmental duties.
In a world where investors have as much or more power than nation-states, the commodification of public goods, services and spaces will continue unabated. Priority should be given to a set of values, norms and policies in view of human well-being, quality of life and natural and built environments, supporting new socio-cultural learning niches, within and outside the academic area, to change perspectives, develop boundary-crossing skills, and cope with complexity and expertise in a critical and creative way.
It is important to consider for diagnosis and prognosis: a) how recover of the land (regeneration, retrieval) affects the recover of men; b) how recover of the men (regeneration, retrieval) affects the recover of land; c) how the different kinds of biomes and land are assessed and explored. d) how people from different walks of life are engaged as actors to face environmental problems and collaborate for their solution. This entails support and resources for coping with everyday life, including political, economic, social, ethical, cultural, educational and biophysical aspects.
The emphasis is on the process and not just on the result; a process that implies the development of new horizons of comprehension, a new level of understanding about the problems, How to bridge the gap between economy and ecology? How to advance transnational civil society and business actors interaction in view of their engagement in public and private regulation and in the governance of natural resources? How societal needs can be provided, controlled and owned, and forests and soils act as 'loci of hope' for achieving an equitable future?
Partnerships, an international collaborative ecosystemic approach, should encompass the co-design of all dimensions of being in the world (intimate – interactive – social – biophysical), as they combine to elicit the events (deficits/assets), cope with the consequences (desired/ undesired) and contribute for changes (potential outputs). The development of consensus-oriented decisions, as fruits of interaction, implies the learning of new ways of interacting, involves the different forms of being in the world, is a matter of global survival and concerns people from all walks of life.

6. Transforming Policy Making for Value Added Energy Systems of the Future in Sierra Leone
Saurabh Biswas
Research Coordinator – Grassroots Energy Innovation laboratory and PhD Candidate – School of Sustainability; Arizona State University.
Sierra Leone is one of the least developed countries (ranked 184 in Human Development Index out of 189, 2017). Socio-economic growth has been seriously harmed, first by a decade long and debilitating civil war (1991 -2002) and then the recent Ebola epidemic (2014 – 2016) derailed the fragile recovery. Inadequate basic infrastructure (including electricity), widespread poverty and a serious food shortage presents a difficult road to a social, economic and environmental prosperity. Electrification of the country holds a significant promise to accelerate this path to prosperity, given that presently less than 30% of the population has access to it. The government of Sierra Leone and several international agencies are beginning to focus on the large-scale development of energy infrastructure in the country. However, this is not a given and is contingent on a variety of other conditions being fulfilled. A mere creation of infrastructure does not lead to improved outcomes and on the contrary, can have significant negative consequences for sustainable development.
The Grassroots Energy Innovation laboratory at the Center for Energy and Society (Arizona State University)has undertaken an applied research project to identify how future developments in the energy infrastructure of Sierra Leone can be designed to drive much higher levels of social and economic growth by addressing multiple development challenges. The Center for Economic Research and Capacity Building, a Freetown (Sierra Leone) based research thinktank is a partner in this effort. The project, titled 'Improving Social and Economic Impact of Energy Infrastructure Investments in Sierra Leone: through Enhancement of Social Value Creation, Capacity-Building, and Decision Support' was launched in May 2019 and will continue till December 2020. It has three objectives:
• Create evidence for high impact translation pathways for energy projects and investments that intensify sustainable development outcomes,
• Develop sustainable future scenarios and identify actions to be taken by stakeholders to shift current state of affairs towards trajectory to change, and
• Build a community of practice among important stakeholders in the energy space and facilitating strategic exchange and coordinated policy action based on scientific evidence.
The core idea behind the project is to enhance the Social Value of Energy, described as the calculus of economic and non-economic benefits, and the burdens and consequences for users of any given energy system. It is based on a mounting body of evidence showing that access to electricity is a necessary but not sufficient condition for socio-economic development. If energy users are to derive significant social value, they also need to possess the capability to translate electricity use into economically productive and socially meaningful outcomes, as well as supportive institutions, markets, and safeguards against exploitation of people and nature.
This collaborative research project in Sierra Leone will investigate strategies for enhancing the social value of energy for users and facilitate their incorporation into energy planning and project design. In the process, it aims to assist Sierra Leone's energy sector pursue energy projects that make a substantial contribution to promoting sustainable development and thriving communities, towns, and cities.
Divided over four phases, the project involves detailed qualitative and quantitative studies in five locations around the country, representative of its energy infrastructure, socio-economic diversity, and demographics. In the first phase, research mechanisms and structures were created. This involved engaging all relevant stakeholders to co-design research; including study site selection, creating platforms for research uptake and building capacity to conduct mixed methods, systematic research.
A key feature of this project is co-production of the investigation process and capacities to utilize research results. To this end, the project has created a national advisory group composed of representatives of national stakeholders from energy finance, policy, and technology; local advisory groups for each study location composed of representatives from local government, civil society and businesses relevant to energy and other socio-economic development sectors in the region; and a special working group of selected individuals from key agencies to identify modalities for continued engagement and coordination of efforts among stakeholders.
About the research team:
The Center for Energy & Society at Arizona State University (ASU)'s School for the Future of Innovation in Society (SFIS) is a network of 50+ faculty and students focused on advancing research on the human dimensions of energy transitions, including a major initiative on energy innovation in developing countries. The center is a transdisciplinary unit at the vanguard of the university's commitment to linking innovation to public value. ASU is a public re-search university in the USA, that is consistently ranked among the top universities in the world for research and innovation.
The research team for this project includes Dr. Clark A. Miller (Director, Center for Energy & Society), Dr. Nalini Chhetri (Associate Director for International Initiatives), Dr. Netra Chhetri (Director, Innovation and Global Development), Dr. Mary Jane Parmentier (Director, Global Technology and Development), and Mr. Saurabh Biswas (Lead Project Researcher).
The Centre for Economic Research and Capacity Building (CERCB) is an independent research firm in Freetown, Sierra Leone, that provides non-partisan research on the design of state and local fiscal and economic policy. Established in 2012, CERCB, fills a critical need resulting from paucity of robust empirical research and capacity building and training services that affect the quality of human resources, public policy design and implementation at local and central government levels in post-conflict settings across Africa. It is represented by Mr. Festus Lansana (Director) and Mr. Wilbourne Showers (Research Lead).
The research is conducted under the Applied Research Programme on Energy for Economic Growth (EEG), led by Oxford Policy Management. The programme is funded by the UK Government, through UK Aid.
For more, visit:
https://energyeconomicgrowth.org/node/267

7. Sustainability, institutional collaboration and digitalization: the three pillars of the future university environment
Sustainability is a crucial issue of contemporary societies. Within this context, universities and other higher education institutions (HEIs) play a crucial role, enabling future leaders and responsible citizens to develop their professional and civic skills to support social and economic development.
Co-financed by the Erasmus+ programme, seven partner organisations, including 5 universities, from France, Spain, Ireland, the Netherlands, Hungary and one NGO from Italy are starting the "UNI-ECO: practical & collaborative tools for sustainability innovation in the university" project, proposing a bottom-up approach to sustainability.
A such, the approach that UNI-ECO has selected is to start this transformation from the basis of each campus, focusing on the campus needs and perspectives by activating all possible actors of the whole HEI hierarchy axis.
The aim of the project is to promote and increase the adoption of good environmental sustainability practices at university and other higher education institutions, through the direct involvement of the whole target community, i.e. professors, students and administrative staff. The heat of the project will be the implementation of Living Labs (LLs) based on a systematic user cocreation approach integrating pedagogical tools and innovation process. As students and staff are key users of facilities on campus, their knowledge, skills and habits are paramount to the successful achievement of sustainability goals.
On 23 and 24 October 2019, all the partners gathered together for the Kick-off meeting in Montpellier, France. The meeting gave them the chance to meet and discuss about their different responsibilities and roles, identifying next activities and possible challenges towards the adoption of sustainable practices that could reduce energy costs and improve the quality of life within higher education institutions.
During the different project's implementation phases, various activities are foreseen. Initially, partners will carry out a state-of-the-art analysis on sustainable development practices at university both in Europe and in their regions, highlighting respective strengths and weaknesses. Based on the results of the research, the partners will then focus on the development of 5 different training modules aimed at raising awareness and promoting sustainable development inside and outside the HEI's environment.
In parallel, CESIE will develop an interactive e-learning platform to facilitate the use of the 5 modules and encourage other HEIs to benefit from the training programme, with the view to engage with the entire university community and promote transnational collaboration between the different institutions involved. CESIE will also be responsible for the design and implementation of the online Living Labs in order to stimulate the exchange and co-creation of practices inspired by sustainability and efficiency principles.
The project partners are:
• University of Montpellier (France, coordinator),
• University of Barcelona (Spain),
• Trinity College (Ireland),
• University of Utrecht (Netherlands),
• University of Budapest (Hungary),
• UNIMED - Union of Mediterranean Universities (Italy),
• CESIE (Italy).
For further information on the project, please contact Manfredi Trapolino by e-mail at: manfredi.trapolino@cesie.org

8. Sustainable Success: A story of a man who was able to conquer the hierarchical ladder the fastest and the most efficient way possible
Is it really possible to rise above the ranks in a very fast way? Is it really possible to be the best at a very young age? Is it really possible to conquer the hierarchical ladder in a very short period of time? An educator, researcher, and an advocate of sustainable development in the Philippines have proven that these questions are answerable by a yes.
Born and raised in the Philippines, Professor Mark Gabriel Wagan Aguilar, "Gab" to his friends and colleagues started learning about life, the environment at a very young age with the guidance of his grandfather, Dr. Ricardo Apolinario Wagan who is an icon of Educational Management and Leadership in Asia. Gab has been exposed already to responsibilities not limited to house chores at the age of eight, he used to wake up at five in the morning on weekdays to sweep the floor of their entire house, feed their dogs, and clean its cages before going to school, while on weekdays, he spend the morning doing the same things and whatever is needed as advised by his grandfather. At first, this lifestyle established a negative image in his mind, he hated what he is doing because it is very tiring, but as time passes by, he realized that this has taught him discipline and has served as training to what he will be facing in the professional work environment.
Dr. Wagan trained Gab not just in house chores but also helped him to strengthen his personality. The two used to spend the last hour of the day together talking about life, leadership, and success, which has been his ticket to success, creating a mindset that success can be achieved without spending too much time, and that one should always keep on looking for opportunities and shall never get satisfied.
As a student, he was not ordinary, being the President of the highest governing student body of the University, he has been exposed to a lot of challenges and opportunities, which have made him competent. He graduated at the age of 20 from Laguna State Polytechnic University with a Bachelor's Degree in Tourism, not long enough was able to land a job in an International Hotel and Serviced Residences in Makati City as Concierge Executive cum Bell Hop. Since what he really want is to act as a mentor to people, and he enjoys being listened to, he turned his attention to the academe. He left the Tourism Industry and started to teach few classes in a local University. Hungry for continuous professional development, he attended seminars and classes that gave him access not just to education but to networking opportunities. In one of his classes, he met an owner of a travel agency who later became his boss as a Travel Consultant; he pursued his career in the academe simultaneously with his job in the travel agency to maximize the time in obtaining relevant knowledge and experience that would boost his credibility as a professional.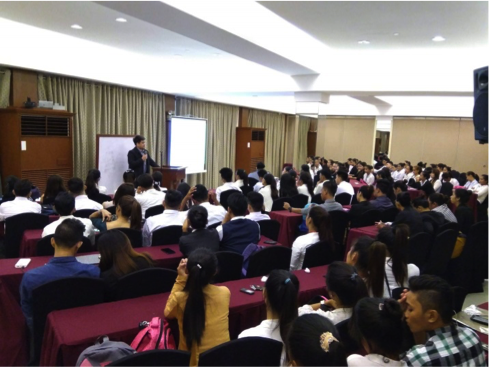 Photo: Prof. Aguilar renders a speech about Ecotourism before students from Eastern Samar State University and Mindoro State College of Agriculture and Technology
He continued widening his network, pursuing courses in the Philippines and abroad, and writing research papers and articles. From 2017 to 2019, he was able to finish a number of Certificate courses in Tourism, Educational Management, Environmental Sustainability, and Business, and in less than a year, he was able to publish a number of researches in International Newsletters and Journals.
After spending 2 years in the Tourism Industry and 3 years as an Educator, he was able to sustain his success by proving what he is capable of, now, he is the School Director of an International College in Metro Manila that offers Baccalaureate Programs in Tourism, Hospitality Management, Business, Real Estate Management, and Information Technology. As the School Director, he holds the highest position in the campus, and responsible in decision making, budget allocation, linkages, sales and marketing, the overall operations of the Institution. Though he was just recently appointed and he admitted that he is still acclimatizing, in an interview with him, he said that in regards of people management, he is smooth sailing.
For Mr. Aguilar, people management and decision making skills are the most important skills a leader needs to have. It is actually where he focused on as he pursues his journey towards success. The School Director aside from the degree and certificate courses he has pursued is a Certified Tourism and Hospitality Professional, Certified Negotiation Associate, and Certified in Content Marketing, all awarded by International Certification giving bodies based in the United States of America and United Kingdom.
Behind his success is his wife, Maria Angelita Lawas Aguilar, who has been very supportive to all of his undertakings, and their first child, Kian Gabriel Lawas Aguilar, who was recently born and now his number one motivation to strive for more.
With his achievements, no doubt that Mr. Aguilar is one of the few who were able to conquer the hierarchical ladder of success, and being the School Director of an International College at a very young age, he has only proven that he is indeed one of the best.
Photo: Prof. Mark Gabriel Wagan Aguilar, CTP, CHP, CNA, CMC, smiling at the camera after rendering a speech in a seminar on Professional Development and Character Building.
9. Australia deregulates some genetically modified organisms (GMOs)
Dr John Paull
http://johnpaull.academia.edu/research
The Australian Parliament voted to deregulate some GMOs on November 13, 2019. Legislation that has been in place for two decades, placed the regulatory burden and oversight of genetically modified organisms (GMOs) in Australia on a government agency, the Office of the Gene Technology Regulator (OGTR).
The OGTR has recast the previous broad definition of GMOs to now exclude certain GMOs, nominating SDN-1 GMOs for exclusion (Australian Government, 2019; McKenzie, 2019). The Parliament was responsible for previously casting the definition of GMOs broadly (Australian Government, 2000; CoA, 2001).
No cost/benefit analysis was presented by the OGTR to support their more narrow-casting of the GMO definition. The GMO regulation system of Australia was not broken. It did not need fixing. Even less did it need watering down. Over the past twenty years, the OGTR has never rejected a GMO application for approval (OGTR, 2019b). A history of multiple GMO incidents and contaminations support the need for continuing regulatory oversight (Paull, 2015; Trask, 2017).
Just two genetically modified (GM) crops are cultivated commercially in Australia, GM canola and GM cotton. GMO agriculture accounts for 0.2% of Australian agriculture hectares. Australia is a minnow in the GM world, accounting for just 0.4% of world GM agriculture (Paull, 2019). The prevailing regulatory system has meant that trading partners in export destinations could be assured that their imports from Australia (excepting cotton & canola) were non-GM.
At a time when trust in politicians is at an all-time low, and previous deregulations have led to adverse outcomes (e.g banking and construction), many will look on this narrow-casting of the definition of GMOs as the thin edge of the wedge, and as an unfortunate new step in the deregulation of health and safety.
The OGTR wrote the revised definition of GMOs as a regulatory instrument. Support was not part of any party's political manifesto. It proceeded without public discussion or support, and it was not debated with a question and answer session in Parliament. The Greens tabled a disallowance motion in the Senate. Voting for the disallowance (that is voting for the status quo and retention of GMO regulation), were the Greens (n=9), Pauline Hanson's One Nation (n=2), and Central Alliance (n=2). The Liberals, Nationals, and Labor (ALP) voted as a bloc to vote down the disallowance motion.
The Liberal Party and the Nationals (the Coalition) have an ideological commitment to deregulation, so their support for GMO deregulation was not unexpected. On the other hand, the ALP had recently declared against various deregulations in their Labor National Platform (Carroll, 2018, e.g. pp. 46, 126, 251). Regarding GMO regulation, they explicitly stated that: "It is essential Australia maintains an independent, scientific and evidence-based regulatory system for GM crops" (p.68). Voters would be entitled to feel betrayed by the ALP's support for GMO deregulation.
The deregulation was not an evidence-based decision. The OGTR made the ambit claim that: "one technique, SDN-1, will be excluded from regulation based on the scientific evidence that it has no different risk than organisms carrying naturally occurring genetic changes" (OGTR, 2019a, p.1). However, the Technical Review of the Gene Technology Regulations 2001 lacks any reference list, and it does not cite any technical or scientific research or evidence (OGTR, 2018). The present author requested, from the OGTR, the "scientific evidence" that it purports to rely on, but nothing has been forthcoming.
It is quite understandable that there is no evidence forthcoming from the OGTR for the safety of all future GMOs created by SDN-1 techniques (for example). Gathering evidence of safety (the remit of the OGTR) from the future, and from future experiments, and from future genomic trauma of all life forms from all continents and from all laboratories and bringing it back to the present would be a challenge beyond even a time travelling Dr Who, let alone for the present-bound OGTR living in their 'Canberra bubble'. The OGTR ambit claim for "no different risk" is the foundation for the present GMO deregulation. It is a reckless claim which is asserted, but not substantiated, by the OGTR, and is arguably quite incapable of substantiation.
The big winners in Australia's deregulation of some GMOs are multinational chemical/pesticide/GMO offshore corporations who will view this as a massive win in advancing their own agendas. The most prominent of such corporations include Bayer/Monsanto, Dupont, Dow Chemical, ChemChina/Syngenta, and BASF, along with their GMO advocacy lobbyist, CropLife.
Image: Bayer in Berlin. Bayer bought Monsanto for US$63 billion (photo: J Paull).
The stakes for the GMO 'industry' are high. China National Chemical Corporation (ChemChina) bought Switzerland's Syngenta for US$43 billion in 2017 (Reuters, 2017). Bayer bought USA's Monsanto for US$63 billion in 2018 (Detrick, 2018). With GMO corporations having such deep pockets, with politicians and regulators being 'only human', and with Monsanto (for example) having admissions of bribery (BBC, 2005; World Bank, 2013), the fabric of democracy is placed in potential jeopardy.
The ALP, Liberals and Nationals have all accepted money from GMO corporations, the beneficiaries of the deregulation. The ALP accepted $40,600 from Bayer/Monsanto, the Nationals $27,840 and the Liberals $14,700 in 'political donations' in 2017-18 (AEC, 2019). The ALP accepted $34,271 from CropLife, and the Nationals $22,300 in 2017-18 (AEC, 2019).
Image: Syngenta graffiti in Basel, Switzerland. ChemChina bought Syngenta for US$43 billion (photo: J Paull).
The ALP, Nationals and Liberals have a vested interest in keeping the tap of GMO donations turned on. They arguably ought to have recused themselves from the deregulation vote. By not recusing themselves, the ALP, Liberals, and National senators who voted for the GMO deregulation give the appearance, if not the evidence, of misfeasance. Conflict-of-interest is a bad look for democracy. One is open to conclude that GMO multinational corporations are keen to selflessly support democracy, or, in the alternative, that they expect some quid pro quo.
The consequence of the deregulation is that GMOs produced using SDN-1 techniques can now enter the Australian food stream without the knowledge of government, regulators, food processors, or consumers. Thus begins an era in Australia of dark GMOs (dGMOs) that are not only unregulated, but are also unknown and invisible. Such dGMOs offer consumers and food processors no obvious path for avoidance and exclusion, and the darkness precludes the gathering of health and safety data.
Australia's OGTR has abdicated its responsibility for an evidence-based oversight and monitoring of GMOs for health and safety, and substituted a non-evidence-based and extraordinary act of faith, viz., that there is no risk and can be no risk, past, present or future. An independent observer could be excused for thinking that this GMO deregulation is less about health and safety, and more about patents, money, and multinationals.
References
AEC. (2019). Summary of Donations reported by Donors - By Party - 2017-18. Canberra: Australian Electoral Commission (AEC).
Australian Government. (2000). Gene Technology Act 2000, No. 169, 2000 (Compilation No. 13 , 1 July 2016). Canberra: Federal Register of Legislation.
Australian Government. (2019). Explanatory Statement: Select Legislative Instrument 2019 No. XX, Gene Technology Act 2000, Gene Technology Amendment (2019 Measures No. 1) Regulations 2019. Canberra: Federal Register of Legislation.
BBC. (2005). Monsanto fined $1.5m for bribery. BBC News, 7 January.
Carroll, N. (2018). A Fair Go for Australia: Labor National Platform. Canberra: Australian Labor Party (ALP).
CoA. (2001). Gene Technology Regulations 2001 2001 No. 106 Explanatory Statement. Canberra: Commonwealth of Australia (CoA).
Detrick, H. (2018). The Justice Department is going to let Bayer buy Monsanto. Here's why it matters. Fortune, April 10.
McKenzie, B. (2019). Gene Technology Amendment (2019 Measures No. 1) Regulations 2019. Canberra: Minister for Regional Services, Sport, Local Government and Decentralisation.
OGTR. (2018). Technical Review of the Gene Technology Regulations 2001, Decision Regulation Impact Statement. Canberra: Office of the Gene Technoplogy Regulator (OGTR).
OGTR. (2019a). Questions & Answers on the Technical Review of the Gene Technology Regulations 2001. Canberra: Office of the Gene Technology Regulator (OGTR).
OGTR. (2019b). Table of applications and authorisations for Dealings involving Intentional Release (DIR) into the environment. Canberra: Office of the Gene Technology Regulator (OGTR). <www.ogtr.gov.au>.
Paull, J. (2015). The threat of genetically modified organisms (GMOs) to organic agriculture: A case study update. Agriculture & Food, 3, 56-63.
Paull, J. (2019). The failures of genetically modified organisms (GMOs). AGROSYM 2019, Jahorina, 3-6 October.
Reuters. (2017). ChemChina clinches its $43 billion takeover of Syngenta. Fortune, May 5.
Trask, S. (2017). 32 genetic engineering incidents since 2011 revealed in regulator's reports. The Canberra Times, July 16.
World Bank. (2013). Case ID: ST-273, Case Name: Monsanto Company. Washington: Stolen Asset Recovery Initiative, The World Bank and UNODC.

10. THE VIEWS OF NON-GOVERNMENTAL ORGANISATIONS (NGOs) ON GENETICALLY MODIFIED (GM) FOOD SAFETY
A PAPER PRESENTED ON A 2-DAY BIOSAFETY TRAINING WORKSHOP ON GENETICALLY MODIFIED FOOD AND FEED SAFETY BY NIGERIA BIOSAFETY MANAGEMENT AGENCY (NBMA) IN COLLABORATION WITH THE PROGRAM FOR BIOSAFETY SYSTEM (PBS)
BY EDEL-QUINN AGBAEGBU
ABSTRACT
KEY MESSAGE: Genetically Modified (GM) crops have sufficiently demonstrated potentials to tackle global food security.
All life on earth depends on the global commons; the ecosystems, biomes and processes that regulate the stability and resilience of the earth system. These are the basic components of our biodiversity; the foundation of our global economy and modern society and is currently facing a tragedy of over-exploitation and rapid degradation. In the World Economic Forum's 2017 Report, environmental-related risks featured among the top-ranked global risks. Four of the top five perceived risks in terms of impact identified were environmental risks which developed from various human activities that do not blend with nature. Some ten years ago, none of this top five were considered as environmental risk but today, environmental threats are the greatest risk we face.
Our rapidly growing population, complex mix of ecologies, and increasing droughts and floods is making progress toward food security frustratingly difficult. As we speak, there is a growing global demand for food, feed, fibre, fuel and the inputs needed to produce them which exert undue pressure on the environment and placing ever-greater pressure on farmers to improve their harvests. A current report from Organizations such as Food and Agriculture Organisation (FAO) reveals that 821 million people still suffer from chronic hunger, a quarter of children less than five years of age are stunted and malnutrition affects a third of the global population. There is this growing recognition that managing the natural resources and safeguarding our biodiversity sustainability should be a priority in national plans, to deliver nutritious food for the present and future generations and achieve the 2030 Agenda for Sustainable Development. Genetically Modified (GM) crops have sufficiently demonstrated these potentials to tackle global food security.
These are products that offer substantial benefits ranging from more convenient and flexible crop management, lower cost of production, health and social benefits and cleaner environment. Sustainable diets promote the use of diverse foods including traditional and local foods that make use of nutritionally reach species, varieties of plants and breeds of animals as well as wild, neglected and underutilized species. Indeed, the tide is turning, and biotechnology is moving ahead. We are seeing wins around the world: three significant Bt. cotton approvals in 2018, the consideration of Bt. maize as a solution to fall armyworm for farmers across Africa; and the adoption of insect-resistant Bt. cowpea in Nigeria. With these results, we should therefore expect convergence of opinions in the very near future.
KEY WORDS: Biodiversity, Degradation, Food, Genetically Modified, Hunger, Resilience, Safety, Sustainable Development.
INTRODUCTION
The rise of extreme weather has diminished the productive capacity of the land and per-capita food production is declining. Threats of widespread hunger in sub-Saharan Africa, Nigeria especially, have been one of the world's most persistent and daunting challenges of the past half-century. Food is becoming less available to a significant portion of the population that nearly 20 percent of Africa's population (256 million) are facing severe food insecurity. The rise in obesity afflicting one in eight, of the global community, driven by urbanisation and the relatively easy access poor people have to energy dense processed food with high fat, salt and sugar contents is a worrying new trend. It doesn't have to be this way.
BACKGROUND
The question is; how do we feed a growing world population that is expected to increase by 2.6 billion people by 2050 sustainably? Sustainable agriculture is the answer to reversing these trends that lead to biodiversity loss and the deterioration and degradation of our natural resources. This must be accomplished by using resources more efficiently, while protecting the environment and adapting to a changing climate. The major response to malnutrition, pressures on feed and water supply, emerging diseases, shifting market demands and climate change is conservation and sustainable use of a wide range of plant and animal diversity. The era is gone when farmers rely on the same reused, low-yielding seeds planted by their forebears. This is a daunting challenge though, but it is not out of reach.
Techniques capable of integrating social, economic and environmental dimensions of sustainability have great potentials to conserve our natural resources and grow healthier food with fewer resources, while responding to increasing global demand for greater nutrition and responsible consumption. It will require that farmers everywhere should have access to technologies, tools and strategies they need to maximize their productivity and profitability. Each new technology adds to the toolbox, yet it is not the toolbox but rather how we use it that will define the future of agriculture. We must combine the best tools from each system as it will help us achieve a new and improved food system.
Genetically modified (GM) technology is potentially a paradigm shift for farmers and an important tool in the toolbox for addressing these global challenges, such as persistent poverty, climate change, and the challenge of feeding 9.7, approximately 10 billion people by 2050. The commercial development of GM crops began in 1996 with GM corn and has expanded with the cultivation of GM crops. Global land use for GM crops reached 185.1 million hectares in 2016. Remarkably, GM crops that have so far been produced and globally commercialized are for bio-fortification, herbicide tolerance, resistance to insect, disease and drought. The Golden Rice (GR) for instance is genetically modified to provide beta-carotene in the rice grain and has demonstrated potential as a means to address widespread vitamin A deficiency in poor and low income countries where rice is a staple.
We have three staple crops; rice, maize and wheat with three animal species; cattle, pigs and chicken that provide majority of the world's food intake. Intensification of production and increased use of external chemical inputs have resulted in significant reduction in range of varieties used in crop production and consumption. They also contribute to crucial shift towards diet simplification, with diets low in variety but high in energy causing escalating problems of over-weight and chronic diseases, increasingly found alongside micronutrient deficiencies. It is very important to note that the micronutrient needs for human health cannot be satisfied without animal, fish and plant genetic diversity, species diversity and ecosystem diversity.
The world's farmers are very central to meeting these growing food and nutritional needs in a sustainable manner as they can innovate to meet this world's needs. Today in Bangladesh, farmers are reporting dramatic reductions in pesticide use after growing genetically engineered Bt. eggplant. On average, these farmers report 62 percent less pesticide use, with some farmers reducing use by as much as 92 percent while experiencing a six-fold increase in their income.
THE CONTROVERSIES
Although GM foods had helped sustain the nutritional needs of human beings and farm animals and mounting evidence showed that GM foods were substantially equivalent to traditionally bred food sources; they have sparked fierce debate about their safety. Genetically modified (GM) technology has become a highly controversial topic for today's global food consumers. As the complexity of the GM issue mounts, the controversy surrounding GM food is moving farther away from science. Some people are largely opposed to GMO foods, but are not sure why. Many hardly understand the basic principles of GM technology but are much concerned about the safety of GM food. They have a relatively low level of trust about information from the government or even scientists. Most Nigeria consumers are unfamiliar with GM technologies and the benefits they provide. They are sceptical of scientists and the government on the topic of GMO, GM technologies and GM food. The internet becomes their major source of information about GM food and technology, and the media coverage is perceived as predominantly negative.
In addition to this, negative information on social media had a great impact, driving down the willingness to accept GM food. This led to food-centred non-governmental organizations (NGO's) directing their attention to generating debates, educational packages and other formats to reach out to the general public (e.g., work of US based Farmer's and Rancher's Association and IFT). A recent review by Van Eenennaam and Young gives an excellent summary of the complexity of surveying and interpreting global public opinion on GM foods. In short, the authors noted the negative view of GM food in Europe, was exacerbated by the Bovine Spongiform Encephalopathy (BSE) crisis first in the late 1980s and again in the 1990s. It was thought that GM technology might be used to mask the effects of poor housing of animals, not to mention the sense of supporting global agro-business rather than smaller family farms which are typical in Europe. In contrast, the United States, Canada and some Latin American countries (namely Brazil and Argentina) have widely adopted GM crops. Brazil is the second only to the United States in the land used for GM food crops.
A research supported by the Chinese Academy of Social Sciences showed that rumours about food security accounted for 45% of all Internet rumours which severely influenced the public's trust. The study also attempted to probe into the public attitudes toward rumours about GM food on the Internet. For example, in China, rice is the main staple food for 60% of its people, and hybrid rice accounts for about half the planting area of rice. Rumours were spread that hybrid rice is a GM crop. This is out of place. Through self-interest, some non-GMO food producers condemned GM food with malicious gossip and misplaced nationalism, fomenting the notion that GM technology originated in the U.S. as a form of bioterrorism against China.
It has been observed that people who love to talk about what farmers want or need and the loudest voices are usually far from the farm. Most of them are urban elites, completely detached from the enterprise of farming but wielding undue influence over the social and regulatory systems that ensure access to biotech. Some nature-based Non-governmental Organizations, Every Woman hope centre (EWHC) for example, are striving to change the dynamics and unravel the truth. They seek out the opinions of growers and regulators such as National Biosafety Management Agency (NBMA), who are enthusiastic to understand the local and universal challenges of food production and ready to shoulder the burden of feeding 10 billion in 2050 while protecting our environment. Nigeria is on track to become the third-most populated country by 2050. We must stand up to the challenge of providing adequately for this population. The time has come to focus on adopting effective, sustainable farming practices and abandon the dogmatic thinking of organic versus GMO versus conventional.
THE ISSUE
Throughout history, innovations have experienced both headwinds and tailwinds before being accepted by society. There is usually a persistent gap between expert knowledge of scientific issues and public perception. The conclusion of natural sciences usually is only truth, although the culture and attitudes can be diversified, being influenced by religious beliefs and political parties. Differences in public opinion towards GMO, GM technologies, and GM food should therefore be respected. What is needed is government leadership in constructing a transparent system for evaluation of these technologies for commercial use, while upholding the public's right to have a choice by labelling GM food products. This will enable the public to make their choices about GM food.
Remarkably, a review of acceptance, policies and actions in the African countries illustrated the complex and myriad issues that slow the adoption of GM food, thereby deleteriously impacting African countries. It revealed that although the progress is slow, there seems to be a new receptiveness for GM food amongst some of the African countries, including Nigeria. In another study in Africa in 2005, showed that of the 7000 people surveyed, 80% did not know the meaning of the word "biotechnology". These are indications that we need to strengthen communication to the public for a transformational and permanent change that will make order out of this confusion.
DEVELOPMENTS
Although much of the controversies around genetically modified crops are driven by the belief that the GM process of moving genes from one specie to another is "unnatural," a new research study has shown that some 1 in 20 flowering plants are naturally transgenic. These plants, including; bananas, peanuts, Surinam cherries, hops, cranberries and tea, contain the Agrobacterium microbe — the same bacterium that scientists typically use to create GM crops. As reported by Joan Conrow, in a publicationon October 9, 2019, this study follows on the heels of the 2015 discovery that sweet potatoes are naturally transgenic. With these latest reassuring findings, I am sure; Scientists / Researchers can finally and confidently shout, ''Eureka! GMOs are Natural!! It is that God made them first"!!!
Another related development is that Agrobacterium DNA has been found in tobacco plants. The findings were reported in a publication of Sept. 21 in the journal Plant Molecular Biology. Researchers studied the genomes of some 356 dicot species and found 15 naturally occurring transgenic species. They concluded, "Thus, HGT [horizontal gene transfer] from Agrobacterium to dicots is remarkably widespread," as stated in the abstract.
In addition to these scientific developments, Michael Le Page wrote in New Scientist that it has been discovered that the horticultural process of grafting different plants together can lead to the exchange of genes, meaning; humans have inadvertently been creating transgenic plants for millennia. Le Page noted, the discovery bodes well for European researchers. They apparently can use these natural strains of Agrobacterium to create new plant varieties, without having them fall under the strict regulatory process imposed on transgenic organisms.
The European Union last year announced that its regulations exclude organisms modified through "natural" processes. He cited Henrik Lütken at the University of Copenhagen in Denmark, who "has created a compact variety of a house plant called Kalanchoe blossfeldiana, which is now ready for commercial sale. He thinks these plants shouldn't count as GM and the latest findings will bolster his case." From these genome studies, we can see that gene swapping has been going on since the dawn of life. It is rather unfortunate that most of these facts are lost to the global public and even some high-ranking government officials especially in developing countries like Nigeria. Instead, various unfounded myths are creating unnecessary fears in the minds of the citizens, limiting sustainability and conservation of the ecosystem through modern technology.
As humanity strives to feed a growing population amid the challenges of climate change, increased urbanization, global trade barriers, shrinking natural resources, fickle consumers, and an aging farmer population, producing sustainable food, while dealing with the land use and degradation is most essential. We should concentrate focus on global commodities with a significant deforestation footprint on food security and safety goals in areas of rapid expansion in agriculture and expanded efforts on land restoration. We should embrace genetic engineering and GMOs as one of the most important technologies we have available to us to improve everything — food, clothing, fragrances, medicine, really everything we make. It is quite an amazing technology out there in nature we have. What a gift!
MORAL AND ETHICAL DIMENSION
Despite their vast potential to help deal with food security challenges, GM crops are currently grown in only 26 countries as a result of regulatory barriers and anti–GM activities. Revolutionary shifts in social, religious and economic life are needed to tame Bigfoot-style economic impact, safeguard and rethink food and agriculture. What we need and very urgently, is a radical shift in perception to view the global goals and agro-biotechnology as the greatest economic opportunity any generation has had, rather than a burden and constraint to growth. Now that we have the code, we can engineer what we want. All physical goods will end up being made with biology. That is the obvious endpoint and hat's the potential. People don't even know it's possible yet.
Interestingly, a Catholic Priest in the Philippines, Rev. Emmanuel "Father Noli" Alparce, has called on religious leaders to advocate for scientific innovations across the world as reported by Richmond Frimpong,October 15, 2019.According to Noli, who was a 2015 Global Fellow, biotech promotes the integrity of creation. "And it contributes to the protection of the environment by reducing the use of and dependence on pesticides and toxic chemicals for controlling pests," he added. Genetic engineering offers a spectacular step forward that can drive the world to produce more food to feed the growing population and provide best practices on dealing with climate change, he said.
Speaking to the 2019 Alliance for Science Global Leadership Fellows Program at Cornell University on "the moral and ethical dimensions of biotechnology and genetic engineering," Noli said that many people in the Philippines do not go to church and fellowship on Sundays due to hunger and poverty. "You will see them in their homes instead of church halls," he noted. Noli is concerned that a person who is poor or hungry cannot praise God and would, in the end; blame God for creating him or her. It is religiously unwise for God's children to suffer from hunger in the era of biotechnology, Noli said, hence his urgent call for religious leaders to support these agricultural tools and their role in protecting biodiversity.Noli urged religious leaders, particularly Christian leaders and chief imams to play key functions in formulating policies across the world to influence decision-making processes at any given time. He noted that their involvement in science advocacy stands the chance of dispelling misgivings against genetic engineering.
Noli's observations come in the midst of an intense global debate on one aspect of agricultural innovation — the production and consumption of genetically modified (GM) foods. However, he acknowledged that nothing in this world is 100 percent safe. "It is difficult to actually and quantitatively predict the consequences of new technologies," Noli conceded. "On the other hand, it will be virtually impossible for humans to exist without biotechnology." "If you acknowledge the works of your doctors, nutritionists and other scientific works, why oppose genetically modified food, which is also the work of another scientist?" Noli asked. "If genetic engineering is to be vilified due to its power to change individuals, then it means most medical intervention should be condemned as well," he added.
THE VIEWS OF THE NGOs ON THE SAFETY OF GM FOODS
In spite of these progresses made, incremental steps alone will not suffice. In a recent research studies in China, a question was designed to address the issue, "If GM technology is applied in medical area to produce medicine, such as insulin and hepatitis B vaccine, what is your opinion?" The percentage of those who supported, opposed or were neutral to GM pharmaceuticals was 46.8, 12.8, and 40.4%, respectively. Support for GM pharmaceuticals was higher than that found for GM food and again, there were many in the neutral category. This result suggests that some respondents were against GM food but not against GM technology. Some studies have suggested that efforts to change consumer perception about GM food should address risk perception factors and promote the beneficial effects of biotech crops.

As a non-partisan, non-profit organization, Intelligence Squared U.S held a TV debate on December 4, 2014 on whether the world is better off with or without GM food. The discussion was whether GM food is safe, how it impacts the environment and can it improve food security. Both the positive and negative sides had experts debating for or against GM food. Among the attendees who were present, the percentages in favour or against "genetically modified food" were 32 and 30%, respectively, before the debate, but this changed to 60 and 31%, respectively, after 100 min of debating the topic. This result is a proof that efforts to change public perception about GM food should address risk perception factors and promote the beneficial effects of biotech crops.
It is on this background that EWHC advocates a consensus (in the public domain) for more discussion on GMO and GM technologies to forge a better understanding of the scientific and social implications of GM food. Public lectures and other educational formats need to be expanded in Nigeria to help the public develop evidence-based attitudes about GM foods. Until public doubts about GM food are addressed in a balanced and evidence-based manner, it will be difficult for Nigeria to develop sound policies and programs that will benefit the agribusiness industry and consumers. The Nigeria media should be encouraged to incorporate scientific facts in their reporting and discourage exaggerated reports and "fake" news. There should be a constructive vision and plan for building a future society that includes rational attitudes and a foundation for a food-secure global society with adequate safety safeguards in place. With just five years behind, NBMA has made tremendous impact in her vital role in improving and protecting lives and the environment; but she must not bypass the pooras advances in agriculture can have a big impact on the lives of the world's poorest.
We are at a precarious point for the fate of the global commons and there is an urgent need to explore the possibility of a framework for robust agricultural technologies. We are facing one of the biggest challenges of our time. It is a challenge we must own as leaders, policy makers, investors, farmers and business people", said H.E. Hailemariam Desalegn, Former Prime Minister of Ethiopia and the new chair of the AGRF Partners Group and the AGRA Board. In view of the fact that future changes in income and population may come close to doubling the current environmental impacts of the food system, we stand at the defining moment of the future of the planet and human wellbeing.Rising to this challenge of climate change would impact on food production, our markets and livelihood. Our actions on climate protection over the next few years will determine whether we continue on a part of exponentially growing national disasters or pivot unto a path towards a safer, more prosperous world. The choice is ours; to contribute to the problem or become part of the solution?
Technologies have emerged that will revolutionize crop production and supply chains. The food and agricultural landscape is expected to change more in the next 30 years than it has in the last 200 years. ''While most food companies and agribusinesses are ill-prepared to meet this challenge, the future of the planet depends on their response." - Jack Bobo, founder and CEO of Futurity. Our food system is broken and we must repair it. Nigeria should streamline the work towards producing enough food rather than wasting further resources on labyrinth processes. Someone will have to do this, and soon; or these wicked problems will come home and roost. As captured in a statement by Ngozi Okonjo-Iweala, Co-chair, Global Commision on Economy and Climate ''It is time to be smart about Financing Clean Development". Adoption of technologies such as GM Foods shall ensure food security for the growing population and mainstream a based economy for future. They are quite safe for consumption and key to revitalizing the stability of our environment.
Edel-Quinn is the Nigeria Country Representative, Voluntary Peer Review (VPR) process, Convention on Biological Diversity (CBD), United Nations Environment Programme (UNEP); the Secretary, National Biosafety Biotechnology Consortium (NBBC), Nigeria and Executive Director, Every Woman Hope Centre (EWHC)

Colophon
This newsletter is presented by the International Sustainable Development Research Society on a regular basis to all registered Followers and Green(+) members. If you want to receive this newsletter, please register here.
Contributions to the newsletter and announcements of relevant activities are welcomed.
Please send any contribution to the co-editors:
Olawale Olayide, Marlen Arnold
Email: newsletter@isdrs.org
Followers and Green(+) members are invited to share innovative, creative and critical ideas about about the further enhancement of sustainable development in a short essay form. This would have a size of between 500-2000 words, follow the general rules of academic publishing (proper references etc.), but it would fill the gap between journal/conference abstracts and official journal publications.

Please provide submissions in a word document and not PDF format, any images must be submitted as a media file (.jpeg, .png or similar).
Disclaimer; the ISDRS is not responsible for any content displayed on the websites that are hyperlinked in this newsletter.