ISDRS NEWSLETTER, 2018, Issue 3
Editors: Olawale Olayide, Volker Mauerhofer
Email: newsletter@isdrs.org
Dear reader,
We hereby like to bring you the latest information about recent activities and news about our Society and direct your attention to interesting developments and up-coming events.
CONTENTS
1. Message from the President
2. ISDRS 2019 Conference Announcement
3. New partnership ISDRS - IUNCBD
4. ISDRS & IUNCBD joint inputs to UN Biodiversity Conference 2018
5. Routledge / ISDRS collaboration:
6. Calls for papers, session proposals and abstracts
7. Neoclassical economists misguide the IPCC – with dangerous consequences
8. Compensation for GMO contamination
9. Summary of discussions in the ISDRS Conference 2018
10. New Professionals Group: Survey results
11. Masters in Political Ecology, Degrowth and Environmental Justice at ICTA/Barcelona
12. Beginner's Guide to Program Evaluation
Colophon
1. Message from the President
After a holiday break for many of us, we are looking back at the very successful 24th annual ISDRS Conference in Messina 13-15th June, 2018. With the inspiring leadership of Roberta Salomone, the organising team succeeded in creating a very stimulating atmosphere of academic exchange and inspiration. Awakening us with the various great keynote speakers (still available online), guiding us through the beautiful Sicilian architecture of the ancient university buildings, fluidly linking us from track session to track session and giving us regular distraction with tasty local food and various cultural performances we again were able to meet our colleagues, build new friendships and work towards new collaboration. You can enjoy many impressions here.
With nearly 400 participants it has been one of the most successful conferences and we have seen various new initiatives emerging during the days which are also discussed in the Newsletter. Once more, we want to thank Roberta Salomone and the organising team for their great work!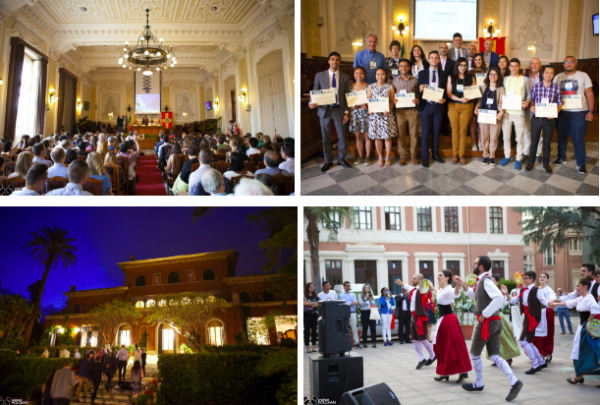 One of these new initiatives is the preparation by topic group 3a&b and our partner IUNCBD of a side event at the Convention on Biodiversity-COP in Egypt in November. Read more about it below.
One of the great moments in Messina was the announcement the winners of the 2017 ISDRS Best Article Award. The winning article has been published by Anna Vaz, C. Kueffer, C. Kull, D. Richardson, J. Vicente, I. Kühn, M. Schröter, J. Hauck, A. Bonn and J. Honrado in thejournal Ecosystem Services, titled "Integrating ecosystem services and disservices: insights from plant invasions.". It was appraised by the jury for its solid interdisciplinary approach. The detailed motivation and the winners of the 2nd and 3rd price can be seen on the website. We will organise this award competition again for the best article of 2018.
In the newsletter we also highlight the new cooperation with Routledge. Apart from a 20% discount for ISDRS members for any online purchases, we have started a book series, for which you can also prepare proposals. Topic groups may work towards edited books based on the discussions in the conference tracks, but also by inviting more authors. A few topic groups have already set their first steps for this.
Looking forward we are very happy to invite you for the 25th ISDRS Conference in Nanjing, China which will be in June 26-28th, 2019, organised by the School of the Environment, Nanjing University. Within the theme "Sustaining resources for the present and future", this conference will explore the fundamental question of how to sustain current development without stripping the resources that the future need, including biological resources, mineral resources, as well as a well-functioning ecosystem. How could the academic progress in sustainable development be translated into a workable plan for action through a dialogue between scholars and stakeholders?
With this focus on circular economy this conference will explore the challenges and opportunities to reduce, reuse and recycle the resources to realize a sustainable present and future. At the same time, the conference will examine the possible mechanisms through which global society could work together to realize sustainable development. It is going to be a great event, celebrating our 25th conference in a row! You can read more about it in this newsletter.
Walter J.V. Vermeulen, President ISDRS

2. I
SDRS 2019 Conference
Announcement
The 25th ISDRS Conference will be hosted by Nanjing University in Nanjing, China, on 26th to 28th of June, 2019. The conference theme is 'Sustaining Resources for the Future'. This conference will explore the fundamental question of how to sustain current development without stripping the resources that the future need, including biological resources, mineral resources, as well as a well-functioning ecosystem. How could the academic progress in sustainable development be translated into a workable plan for action through a dialogue between scholars and stakeholders? This conference would like to create such an exchange opportunity among conference attendees, including academician, policymakers, and the private sector.
Nanjing, as the capital of Jiangsu Province, has a long history of more than 2600 years and is an important political, cultural, economic and education center, for the whole nation. Nanjing University, founded in 1902, is one of the oldest universities in China. It has been always one of the top comprehensive universities in China and in the front rank in the world as well. Nanjing University is a pioneer in environmental science research, focuses on comprehensive and in-depth understanding of the Earth's natural and socioeconomic systems and further explores the effective and efficient ways in realizing sustainable development.

3. New
partnership ISDRS - IUNCBD
On June 13th, 2018, at the inaugural session of the 24th ISDRS Conference at Messina (Sicily, Italy), the International Sustainable Development Research Society (ISDRS) , represented by its President, Prof. Walter Vermeulen, and the International University Network on Cultural and Biological Diversity (IUNCBD), represented by its President Prof. Pierluigi Bozzi, signed an agreement of cooperation. The objective of the agreement is to stimulate and facilitate common participation of ISDRS members and universities of the IUNCBD in programs of sustainable development and conservation of cultural and biological diversity at all the administrative and spatial scales and to contribute together to integrate the principles and practices of sustainable development and diversity conservation in international, regional and national forums. We are already jointly preparing a side event at the 14th CBD-COP in Egypt in November 2018 (see next item). See also: IUNCBD.

4. ISDRS
&
IUNCBD
joint i
nputs
to
UN Biodiversity Conference 201
8

ISDRS will be actively bringing recent scientific insights to the 14th meeting of the Conference of the Parties to the Convention on Biological Diversity - COP 14, in Sharm El-Sheikh, Egypt, 17-29 November 2018. Topic group 3a and 3b will together with our partner and IUNCBD jointly organized two side events at the UN Biodiversity Conference 2018.
The research work covered by this topic group, but also various other groups (like topic 5d and topic 9d) has important implication which will be discussed with the policymakers negotiating new agreements over there.
Members of ISDRS can actively contribute to this in either of these forms:
-1- present in Egypt at the ISDRS/IUNCBD side events; presenting in short (10 minutes & 1 pager policy briefs to hand out) (travelling at cost of each own's institution (ISDRS / IUNCBD do not have funds for this))
-2- distant contribution to the side events by preparing a 1 pager policy briefs to hand out (& possibly a 5 minutes video presentation), which will be highlighted by the ISDRS/IUNCBD participants present there.
If you are interested please contact Francisco Comin, chair of topic 3a & 3b (comin@ipe.csic.es) as soon as possible. We can send further instructions for the input to be given.
All information about the CBD can be found here: https://www.cbd.int/conferences/2018

5. Routledge /
ISDRS
collaboration
:
Routledge / ISDRS collaboration: discount and new book series.
ISDRS and the publisher Routledge have started a closer collaboration, which will benefit all ISDRS members.
• 20% discount for you as member in buying online books from Routledge by using the coupon code "ISDRS": see more information here.
• You can contribute with a book proposal to the new "Routledge/ISDRS Series in Sustainable Development Research". With this we will continue the line of publications that were produced by some ISDRS Board members before already, see for more information the webpage and this flyer.
Routledge is one of the largest publishers in the field of Sustainable Development research and actively supports knowledge dissemination for achieving the SDG's via its Sustainability Hub, which links very well to our topic groups as well.
6. Calls for papers, session proposals and abstracts
A. Call for Chapters: Base of the Pyramid Markets in Africa:
Innovation and challenges to sustainability
Editors
Prof. Judy Muthuri, Nottingham University Business School, UK
Prof. Marlen Gabriele Arnold, Chemnitz University of Technology, Germany
Prof. Stefan Gold, University of Kassel, Germany
Prof. Ximena Rueda Fajardo, Universidad de los Andes, Colombia
Important Dates
Proposal Submission Deadline: 31st November 2018
Invitation for chapter submission: 31st January 2019
Full chapter submission: 31st August 2019
Review process: September to 31st October 2019
Review results to chapter authors: 31st October 2019 – 31st December 2020
Revised chapter submission from chapter authors: 31st March 2020
Final acceptance to chapter authors: 30th April 2020
Submission of final chapters to editor: 30th June 2020
Scope and Topics
The BOP markets book – focussing on Africa – covers theoretical perspectives and themes and various aspects of BOP markets in Africa. Thus, this book contributes with a profound understanding of BOP markets in Africa and presents valuable insights on how the private sector can work together with other stakeholders to develop and operationalize economically viable business models in BOP markets while contributing to sustainable development. Private actors such as multinationals, small- and medium-sized enterprises and entrepreneurs have a critical role to play in achieving the Sustainable Development Goals agenda as laid down by United Nations in September 2015. Yet, BOP markets face unique challenges and private sector alone cannot orchestrate the sustainable value creation activities. Multidimensional collaboration between various stakeholders, deep consumer behaviour insights, community-driven product, process and value chain design, knowledge and capabilities transfer - all of these are elements of the puzzle which still needs to be entangled in order to alleviate poverty and create economic development aligned with principles of sustainable development.
Therefore, the book focuses on critical reflections of ongoing theories in light of BOP markets as well as African challenges that have to be addressed. The following book structure highlights the main outline. Thus, wide and vivid impression of ongoing challenges and fruitful solutions presented as critical, analytical and empirical studies, concepts and interviews or roundtable discussion are highly welcome! Contributors are welcome to submit chapters on the following topics:
Submission Procedure
Researchers and practitioners are invited to submit a chapter proposal clearly explaining the chapters' outline, goal, design and outcome of his or her proposed chapter.
Submission deadline for chapter proposals (one to two pages): on or before 31st November 2018
Authors of accepted proposals will be notified about the review feedback by 31st February 2019. Authors with accepted proposals will get the chapter guidelines.
Full chapters are expected to be submitted by 31st August 2019. All submitted chapters will pass through a double-blind review.
Publisher
Routledge is a global publisher of quality academic books, journals & online reference. Routledge is the world's leading academic publisher in the Humanities and Social Sciences publishing thousands of books and journals each year, serving scholars, instructors, and professional communities worldwide. Routledge is a member of Taylor & Francis Group, an informa business.
Questions
Questions or inquiries can be sent directly to the volume editor Prof. Judy Muthuri (judy.muthuri@nottingham.ac.uk).

B. Call for papers: Industrial Symbiosis for the Circular Economy: Operational experiences, best practices and obstacles to a collaborative business approach.
Submission Deadline: 31 December 2018
Editors
Andrea Cecchin, Laura Cutaia, Pauline Deutz, Andrea Raggi, Roberta Salomone
Dear Colleagues,
We are pleased to invite you to submit an expression of interest to contribute a chapter to be included in the book "Industrial Symbiosis for the Circular Economy: Operational experiences, best practices and obstacles to a collaborative business approach" by December 31, 2018. The book will be published by Springer.
Editors will select high quality Chapters that contribute to the understanding of both the variety and sustainability impact of circular economy (CE) practices, as well as new business models practices, including industrial symbiosis. In fact, industrial symbiosis is reported in the Action Plan on the Circular Economy developed by the European Commission in 2015 (COM / 2015/0614 final) and in its revision of 14 March 2017.
CE and innovative waste management practices, including transferring and sharing resources (raw materials, water, residues, energy, services, skills, tools, databases) from one operator to another or between operators. These practices have been incorporated at a variety of policy levels from local to international, and in a variety of forms from top-down government mandates to bottom-up independent programs and projects. Relatively little attention, however, has been paid to examining the environmental, social, and economic impact of these practices, and how those impacts may be context and/or scale dependent.
The aim of the book is to collect real experiences and best practices of industrial symbiosis, performed both by industries and the scientific community, as well as successful and unsuccessful cases (implemented or under implementation), with the final aim to promote the adoption of industrial symbiosis as an operational and systematic tool for the CE.
Sharing the knowledge and experiences on CE and industrial symbiosis practices can highlight successful practices (e.g., tools for its implementation or stakeholder experiences). Also important are lessons regarding obstacles and barriers to implementation. Relevant issues could include both technical matters (processing of by-products and waste for their re-use), use information technology (databases and tools), and in management, logistical, procedural, administrative and regulatory terms.
Special encouragement goes to the papers presented at the 24th International Sustainable Development Research Society Conference "Actions for a Sustainable World: from theory to practice" (ISDRS 2018), in the following two theme tracks: "5c. Circular economy, zero waste & innovation" and "5g. Industrial symbiosis, networking and cooperation as part of industrial ecology".
Dr. Andrea Cecchin
Dr. Laura Cutaia
Dr. Pauline Deutz
Prof. Andrea Raggi
Prof. Roberta Salomone
Dates to Remember:
Abstract Submission: 15th October 2018
Communication Selected Abstracts: 31st October 2018
Submission of First Draft: 31st December 2018
Reviews will be sent by February 28th 2019 Submission of Final Draft: 28th March 2019; Notification of acceptance by 1st May 2019.
We will select 14 chapters (of 15 pages each, including tables, figures and reference - 550 words per page).
Please submit extended chapter abstracts (800-1,000 words) together with a full list of contributors and a tentative title to Roberta Salomone (roberta.salomone@unime.it) no later than October 15th, 2018. The title, the list of authors, their affiliations and references (if any) are excluded from the word count. The editors will screen all submitted abstracts for clarity, relevance and expected contribution to the book theme. Chapters will be reviewed by the editors; only high-quality contributions will be accepted.

C. Call for papers: Special Issue "Life Cycle Thinking and Industrial Symbiosis: Challenges for A Sustainable Growth"
We are pleased to invite you to submit articles for a Special Issue on "Life Cycle Thinking and Industrial Symbiosis: Challenges for a Sustainable Growth", by June 30, 2019.
We believe that the Life Cycle Thinking (LCT) approach is an essential part of Industrial Symbiosis experiences, supporting the transition to the traditional focus on a single production facility to the system vision that includes environmental, social and economic impacts of a product over its entire life cycle and that improves synergies among different organizations.
Starting from this belief, this Special Issue covers discussions on methodologies and practices for sustainability and Circular Economy based on the implementation of Life Cycle Thinking in Industrial Symbiosis challenges, which include but are not limited to:
• Role of LCT in planning, implementing and assessing industrial symbiosis challenges
• Investigating Industrial Symbiosis thought Life Cycle Assessment
• Investigating Industrial Symbiosis thought Life Cycle Costing
• Investigating Industrial Symbiosis thought Social-Life Cycle Assessment
• Circular Economy and Life Cycle Thinking
• Local sustainability and Life Cycle Thinking
We would like to invite you to share a wide range of studies, experiences and knowledge that helps to promote sustainability issues (not limited only to environmental aspects but also covering social and economic aspects) linking life cycle thinking and industrial symbiosis.
In recognition of the fact that the benefits sought are diverse, contributions from various sectors are welcome. Special encouragement goes to the papers that extend the presentations from the 24th International Sustainable Development Research Society Conference "Actions for a Sustainable World: from Theory to Practice" (ISDRS 2018).
Guest Editors
Prof. Roberta Salomone
Prof. Andrea Raggi
Dr. Laura Cutaia
Dr. Andrea Cecchin
Dr. Pauline Deutz


Manuscript Submission Information
Manuscripts should be submitted online at www.mdpi.com by registering and logging in to this website. Once you are registered, click here to go to the submission form. Manuscripts can be submitted until the deadline. All papers will be peer-reviewed. Accepted papers will be published continuously in the journal (as soon as accepted) and will be listed together on the special issue website. Research articles, review articles as well as short communications are invited. For planned papers, a title and short abstract (about 100 words) can be sent to the Editorial Office for announcement on this website.
Submitted manuscripts should not have been published previously, nor be under consideration for publication elsewhere (except conference proceedings papers). All manuscripts are thoroughly refereed through a single-blind peer-review process. A guide for authors and other relevant information for submission of manuscripts is available on the Instructions for Authors page. Sustainability is an international peer-reviewed open access monthly journal published by MDPI.
Please visit the Instructions for Authors page before submitting a manuscript. The Article Processing Charge (APC) for publication in this open access journal is 1400 CHF (Swiss Francs). Submitted papers should be well formatted and use good English. Authors may use MDPI's English editing service prior to publication or during author revisions.

D. EUGEO Congress 2019 in conjunction with the 51st Conference of Irish Geographers
15th – 18th May 2019, National University of Ireland Galway
CALL FOR SESSION PROPOSALS
We are delighted to announce that the call for session proposals for the up-coming EUGEO 2019 Congress in conjunction with the 51st Conference of Irish Geographers is now open. The deadline for the submission of proposed sessions is Friday November 30th 2018. Session proposals can be uploaded here: https://www.eugeo2019.eu/submissions 
The theme for the 2019 EUGEO Congress is 'Re-Imagining Europe's Future Society and Landscapes' and we invite sessions on this theme (and beyond) from all areas of the Discipline.
The conference will take place at the National University of Ireland Galway from May 15th – 18th (inclusive) and will include a series of keynotes, networking and social events throughout the four-day period. Some highlights include a Welcome Reception on May 15th and conference dinner on May 17th. Galway is an ideal location for the Congress; a vibrant city, full of rich cultural heritage and a gateway to many sites of geographical significance (e.g. Connemara and the Burren). Further details are available on the conference website: https://www.eugeo2019.eu/
The conference will be chaired by Dr Frances Fahy and Dr Kathy Reilly (Geography, NUI Galway) and the theme reflects on the centrality of the concepts of society and landscape within the Discipline of Geography. EUGEO 2019 in conjunction with the 51st Conference of Irish Geographers will offer participants the opportunity to reflect on and re-imagine futures within the geographical boundary of Europe and beyond. We invite session proposals reflective of the over-arching theme with a view to attracting a wide variety of geographers with a range of interest and expertise representative of Geography's diversity.
E. Call for abstracts for the 4th NEST Conference - "Transitions to where? Shared values and visions for sustainability transitions"
The Network of Early Career Researchers in Sustainability Transitions (NEST) is excited to announce the call for abstracts for the 4th Annual NEST Conference (#4THNEST), with the theme "Transitions to where? Shared values and visions for sustainability transitions" to be held in Lisbon, Portugal on April 4th - 5th, 2019. With all this talk about transitions, this conference will reflect on this concept and delve into what we are actually trying to attain at the end of the day. "Transitions to where?" hence spans the whole spectrum of conceptualizing societal transitions, from concrete and clearly defined visions to a broader focus on large-scale normative movements.
The conference will be filled with two enriching days of keynote lectures, discussion sessions and interactive workshops.
Following the tradition of the previous NEST conferences held in London (Greenwich), Lausanne (EPFL) and Utrecht (UU), this conference will give early career researchers the unique opportunity to present their work-in-progress and to get feedback from their peers as well as senior researchers. Inspiring keynote sessions and an interactive workshop format will provide space to further discuss and reflect on the conference theme.
We invite all early career researchers to submit an abstract (max. 400 words) discussing your research, its relevance to the theme of the conference and how this fits within the research agenda of the Sustainability Transitions Research Network (STRN) by December 3rd, 2018. In addition, please also include a short, professional biography (100-150 words). Please email your application to: 4thnest@campus.fct.unl.pt
Important dates
Deadline for submission of abstracts: December 3rd, 2018
Notification of results: January 16th, 2019
Registration deadline: February 15th, 2019
For more information on the STRN: https://transitionsnetwork.org/
Stay up to date on the NEST Blog: https://transitionsnest.wordpress.com/

7. Neoclassical economists misguide the IPCC
– with dangerous consequences
At the Paris Climate Conference it turned out that the IPCC had not developed any scenario to limit climate change to less than 2°. As scientifically, there is a risk that we might cross tipping points between 1.5° and 2° global warming, and politically the Paris meeting decided to prioritise a limit of 1.5° if at all possible, the IPCC was called upon to develop scenarios for that objective.
In October this year, the IPCC will publish its scenarios, and from a sustainability point of view, the result of the scenarios is frightening. However, this is less a problem of the climate scientists in the IPCC, than their economic colleagues, most of them scientifically neoclassical and politically neoliberal. How could that happen?
For the last IPCC report, the scientific community was invited to develop socio-economic scenarios to underpin the climate modelling by the IPCC. Not least due to interventions by some economists, the initially broad range of possible scenarios was essentially limited to different variants of the SRES scenarios used by the IPCC since 2002. They are the basis of current analyses, and as the economic models used in integrated assessment modelling are computable global equilibrium models (CGE), deep structural change is excluded from the calculations, and thus from the policy options derived.
Consequently, when the IPCC will present its 1.5° warming scenarios, we will be presented four scenarios, three the "usual suspects" and one explicitly ambitious sustainability scenario, including all kinds of technologies and policy interventions to reduce greenhouse gas emissions. Nonetheless, all four socio-economic scenarios and storylines linking the physical scenarios to the socio-economic domain expect an overshoot of greenhouse gases and thus temperatures, to be compensated later, in the second half of this century, by negative emissions, with a focus on BECCS, biomass-based energy combined with carbon capture and storage. All four also assume economic growth.
While both elements of that "rescue concept" have been criticised – the biomass base for the need of large scale plantations damaging biodiversity, and CCS for its safety and the enormous energy consumption it entails – our points is different ones here: the assumption of reversibility, and the structural conservatism.
Everybody familiar with system analysis and theory in general, and ecosystems in particular, knows that developments in such systems are path dependent and irreversible. Unlike economic models, biological systems are not mechanical but develop: you never cross the same river twice. In the mean time we know that not only are system changes are not reversible, but the upper limit of about 2° warming (preceding the assumed return to an earlier state equivalent to 1.5°) may be an illusion as well. Leading climate scientists warn that in the history of the earth system a temperature equivalent to the 2° limit has never been a stable state, but the early phase of a larger change, driven by the dynamics of the earth system and finding a new stable point at a much higher temperature, in the hothouse. Basing polices on the assumption of reversibility may thus result in a situation where humankind can only watch how a climate sustaining human civilisation is giving place to a new stable state far away from it – with no chance to stop the development. Economic growth catapults us into the hothouse.
Considering other policy options like a policy of degrowth was rejected by IPCC economists as it resulted in unplausibel results. They call upon us to accept the hothouse as a realistic option, but not the deep structural change necessary to limit climate damage. Instead in their models, the basic socio-.economic structures are assumed to be constant for the next 80 years, the social, political and economic system effectively remaining rather the same, as the basis of "realistic" developments. Is that realistic? 80 years ago, 1938, we had fascism all over Europe, an aggressive Japanese empire, Stalin's iron fist in the Soviet Union and much of the world being suppressed as colonies, mostly by Britain and France, but also by Belgium, Portugal, Spain, the USA and others. Real realism would imply to assume that major structural changes will occur, including those of hegemonial ideologies and economic systems.
Thus we urgently need truly realistic socio-economic narratives and scenarios which limit climate change to 1.5°, do not accept overshoot, do not count on geo-engineering. Such scenarios are only possible giving up the axiomatic growth assumption dear to modern economics. It is high time to make clear who the realists are: neoliberal politicians and neoclassical/environmental economists with their elegant but unrealistic scenarios, but sustainability and biodiversity researchers criticising both the reversibility assumption and the structural conservatism.
The IPCC economists call their elaborations "realistic scenarios". They must not come true.

8. Compensation for GMO contamination
Dr John Paull, Geography & Spatial Sciences, School of Technology, Environments & Design, University of Tasmania, j.paull@utas.edu.au
A Parliamentary Inquiry was launched in Western Australia (WA) in December 2017 into how to compensate farmers for economic loss due to contamination by genetically modified organisms (GMOs). The Inquiry was prompted by the Marsh v Baxter case.
In May 2010, Michael Baxter planted Monsanto's Roundup Ready GM canola at his farm near Kojonup in the wheat-belt of WA. Next door, farming 477 hectares, were organic farmers Steve and Sue Marsh. GM canola blew over the Marsh farm. The Marsh farm lost its organic certification due to GM contamination. Marsh sued Baxter for damages - the loss of the organic premium. The damages were agreed between the parties at A$85,000. In a protracted legal battle the legal fees amounted to more than A$2 million. Marsh lost the case. Baxter's legal fees were paid by Monsanto, and costs were awarded against Marsh. Marsh v Baxter was an expensive exercise to create the precedent that there is no protection in common law against contamination by GMOs.
An important aspect of the Marsh v Baxter case is that there was no proportionality between the actual damages sustained and the legal costs of pursuing recovery - in this case ultimately without success.
There were 94 public submissions to the Inquiry from both foes and friends of GM farming. This was followed by expert testimony from witnesses.
It was pointed out by the Inquiry that the Marsh v Baxter case would have had "a chilling effect" on GM-contaminated farmers. The costs of pursuing a case could potentially bankrupt them. The net effect could be to silence such farmers. In any event, the number of farms contaminated is unknown.
There was no evidence presented that insurance against contamination by GMOs was available in the Australian market.
In the course of the Inquiry, four compensation proposals have materialised:
a) Pro-GM advocates were of one mind in insisting that there is no problem and no mechanism for compensation is called for.
b) Anti-GM advocates proposed a levy on the GM sector to create a pool of funds to fund potential contamination claims. This could be collected at the time of seed purchase, for example. This proposal lacks mechanisms to keep the size of the pool and the size of the claims in balance and how unspent pool might be disposed of.
c) The committee itself raised the issue that the Government could fund a compensation scheme. This would mean no impost on the GM sector and it would assure claimants that claims could be met.
d) The present author proposed a compulsory third party (CTP) model Under a CTP insurance model, the potentially harming parties (the GM farm sector) pay premiums and those harmed (the non-GM farm sector) are the beneficiaries. The harming party thus bears the cost. Harmed parties can be reimbursed in a non-adversarial environment on a no-fault basis. Premiums accrue to the the underwriting entity as with other insurances. The Insurance Commission of Western Australia manages a successful CTP scheme for motor injury insurance, and so CTP infrastructure is tested and in place in WA.
This Inquiry is ongoing and it is expected to report in early 2019.
Further reading:
Paull, J. (2015). GMOs and organic agriculture: Six lessons from Australia. Agriculture & Forestry, 61(1), 7-14.
Paull, J. (2015). The threat of genetically modified organisms (GMOs) to organic agriculture: A case study update. Agriculture & Food, 3, 56-63.
Paull, J. (2018). Genetically Modified Organisms (GMOs) as Invasive Species. Journal of Environment Protection and Sustainable Development, 4(3), 31-37
Steve Marsh, the organic farmer harmed by a neighbour's GM canola crop.
A field of canola in Western Australia
9. Summary of discussions in the ISDRS Conference 2018
Track 1b : Research Methods & Methodology
The track theoretical approaches stressed some pivotal topics in sustainability science, like resilience and systems modelling. Moreover, the challenges and limitations caused by human behaviour were discussed. The presentations were enriched by thrilling case studies and the presentations came up with new and interesting insights, e.g. concerning SDG impact and housing. Read more.
Track 2a: Provision, Quality and Access to Education
The track provision, quality and access to education addressed all three areas by different and inspiring talks.
Within the track challenges and dilemmas, multidisciplinarity and sustainability in educational context were addressed and discussed. New instructional designs including cooperative learning approaches were vividly debated. So, education is not for granted and has to be planned and guaranteed sustainably. Read more
Track 2b: Education for sustainability:
Most presentations about ESD practices at Higher Education Institutions (HEI) – Their role was reinforced, as well as implementation of holistic approaches, and the need to institualize ESD not only at University level but also at governmental and policy levels. Nevertheless bottom –up initiative were presented. Read more.
Track 3a and 3b: Life on Land and Life below Water
Our two tracks 3A and 3B addressed the SDGs "Life on land" and "Life under water". The presentations covered a diverse set of topics and case studies that, in essence, examined the question whether it is possible to have development of human communities without compromising existing biodiversity. We also acknowledged the great benefits high biodiversity can provide humanity and whether it is possible to restore deleteriously altered ecosystems to enhance biodiversity.
Track 3c: Ecosystem services (definition, measurement, multi-criteria valuation)
Chairs: Joachim Spangenberg Benedetto Rugani
The session investigated some conceptual challenges related to the field of ecosystem services (ESS) and how society and individuals can put their valuation into practice.
Three presentations were carried out. The first presentation focused on the dynamics of the value change in the industrialization process, with the goal to harmonize the objectives of an ESS valuation with those of specific actors involved in their management and exploitation.
The second presentation focused on the different definitions actors from various disciplines can have about ESS and their valuation approach. Value differences clearly on discipline-dependent entry points and the type of actors, which take place along the so-called ESS cascade.
The third and last presentation was about "offsets" and the difficulties to realize the no net loss principle when ESS are considered in the reconfiguration of the land use. A main conclusion was that the different values involved are not commensurable and it is quite challenging to separate the no net loss principle from the necessary presence of tradeoffs (e.g. if one take both social and ecological accounts, not always both benefit but one sphere is suffering). Read more
Track 4a: Predictions and Responses
Chairs: João Joanaz de Melo & Benedetto Rugani
1. Monitoring results of climate change at local level are mostly in line with the trends predicted at global and continental level. However local analysis is important because there are specific aspects that can only be understood and answered at the local level.
2. Poor populations are most vulnerable to environmental crisis, including climate change. This vulnerability increases in contexts with high level of corruption, because it severely curtails development opportunities and resource management good practice.
3. LCA is an essential tool for effective response to climate change and other sustainability challenges. Indicators should be carefully selected both to cover most relevant environmental aspects and to avoid redundant information. Read more.
Track 4b: Affordable and clean energy
Chairs: Marina Mistretta and Joanna Kulczycka
All the contribution presented in the track "4b. Affordable and clean energy" provided interesting insight in the path toward sustainability and showed that we are in a transition toward clean and efficient use of energy, to reduce the impact of energy production on the environment and economy, in the attempt to match the 7th Goal of Sustainable Development Goal. Eleven speeches were carried out and discussed about new approaches, methods, projects and case study applications in order to assess developments, current policy progress and pathways toward low-carbon technologies. New technological solution in the field of clean energy were presented both using for example hydrogen, biomass. The theoretical part covers proposal of using different models for calculation efficiency and sustainability of different solutions concerning carbon pricing or ranking technical options. Discussion about a number of topics was carried out, read more.
Track 5a: Corporate Sustainability and CSR
Chairs: Arun Sahay and Romana Rauter

This Track had 29 interesting papers being presented during the last three days.
What we've observed are very interesting perspectives on Corporate Sustainability (CS) from many different cultural though international backgrounds. In our view, this enriches our understanding of different meanings of CS depending on specific contexts and provides many ideas for future research. Many research projects presented are works in progress of high quality already, so that we look forward to the upcoming conference. We hope that the next years' organizers contact us for creating this Track to which we shall provide template and guidance.
This track is as a result of a special issue of "Sustainable Development," an impact journal published by John Wiley, with focus on Corporate Sustainability.
Track 5b: Design for sustainability
Chairs: Astrid Skjerven, Marzia Traverso
The topic met great interest from the conference participants, which was testified by the necessity to create 3 different track sessions to give room to all speakers. There were 13 presentations in total. The contributions covered different sector such as automotive, fashion and building. Even if the focus was sustainability the most of presentations were about environmental pillar of sustainability, only a couple of them include the life cycle costing (and consequently the economic pillar). The contributions were different qualitatively from a more superficial qualitative approach to a quantitative and scientific one. Several reflected the gap between the attitudes of stakeholders and the implementation of eco-friendly solutions. Most used quantitative methods and statistics. Some tended to compare incongruent parameters. Provided further development some of them might become useful tools in building and rebuilding processes. By the way, the importance of this session is very high as well as the necessity to expand to all three pillars of sustainability. Read more.
Track 5d on Value Chains and Trade, Wednesday 13th and Friday 15th June 29-2018
Chaired by Valerie Nelson and Walter Vermeulen
In two sessions we had 10 papers presented addressing diverse product groups (cotton, salmon, cement, cacao/chocolate and dairy), produced in various continents. Most shared the focus on assessing the full (Planet, People, Prosperity) range of sustainability aspects, while a few made steps towards monetary evaluation of this. Some had a focus on the role of lead companies or a wide review perspective. A common theme emerging across the presentations was the weaker than anticipated impact of many sustainable supply chain initiatives vis-à-vis their own stated goals and those delineated by the UN SDGs. To achieve greater impact and contribute to the achievement of the SDGs, it may be necessary to identify complementary or even alternative, non-voluntary measures. See more here.
Track 5c: Circular Economy, Zero-waste and Innovation
Chaired by Pauline Deutz and Andrea Raggi
There was a keen interest in Circular Economy (CE) at this year's ISDRS conference. The talks and posters (referred to collectively as papers) covered the spectrum of approaches to the field ranging from product specific LCA to consideration of social implications of a CE. Case studies covered a range of products/locations. Most papers positioned themselves in the context of the CE; some were explicitly addressing industrial symbiosis. These sessions were well attended and sparked some lively debate. Herein we briefly review the major themes to come out of the sessions. Read more
Track 5f : Food security and agriculture
During the track "Food security and agriculture", the participants looked for various solutions to the future Food crisis, as suggested in the general review of the literature about food security and agriculture by Catherine Macombe (And after?). It could be "changing the nutrition of our food", such as recommended by Gaspard Philis et al. (with A material and substance flow analysis of soybean and seaweed-based aquafeed proteins- comparing primary energy and phosphorus requirements) or managing the resources with care : Phosphorus stocks, as demonstrated by Zengwei Yuan et al. ( ***), or services rendered by honey bees, as underpinned by Ioannis Arzoumanidis et al. (The inclusion of the Pollination service in Life Cycle Assessment of Beekeeping Products). Technologies such as mobile phones are introduced by Tyler Jay Reynolds et al. (Mobile phones and sustainable based livelihoods: a case study of smallholder farmers in the Ashanti and Brong-Ahafo Regions, Ghana). Other solutions require even more shifts, like widely spreading urban agriculture as highlighted by Nicole Paganini, Anja Schelchen et al. (with Sustainable urban food systems in Southern Africa's cities: urbanGAPs for organic market gardens in Cape Town), or radically changing our diets (Ari Paloviita with a Conceptual framework for sustainable protein systems, and Seona Candy et al. with Quantifying Melbourne's 'foodprint': a scenario modelling methodology to determine the environmental impact of feeding a city). Maybe part of the solution lies in turning back to tradition, as suggested by the work of Filipa Monteiro et al. about cashew (Anacardiaceae as a central driver of agro-economic transitions in Guinea-Bissau: past and current trends), or widely spreading the implementation of organic agriculture as discussed by Raymond Auerbach (Sustainable food systems for Africa). Read more
Track 6a: Land use and planning
Track chairs: Marc Wolfram and Markus Egermann
With the interrogative topic "Planning for transformation?", this track focused on the tension field between the institutions, practices and techniques of current planning on the one hand, and pressing requirements for achieving transformative change on the other (i.e. deep change in urban and spatial systems towards sustainability), asking:
• How does research address the relation between planning and transformation?
• What effects does planning practice have for sustainability transformations?
• How could future planning research/practice respond to the issues identified?
TRACK 6b: URBAN AND RURAL DEVELOPMENT
Chairs: Martina Keitsch and Nuno Martins
The main goal of this track was to share knowledge and experiences on possibilities and challenges of rural-regional-urban collaborations towards sustainable societies with a special focus on SDG 11. Track 6b comprised 18 presentations from international researchers and practitioners addressing issues on sustainable urban and rural development at local, regional and national levels. The presentations in the track were focusing on three key areas: Theories and concepts on sustainable urban and rural societies, models and measurements for planning strategies and study analyses and practices of green planning and design. Read more.
Track 6d: Water and sanitation
Chairs: Cat Button and Lolita Liberatore
Diverse water issues and solutions were discussed. These included water contamination, groundwater depletion, experimental methods for treating landfill leachate, and the use of saltwater to make concrete. Case studies ranging from the Philippines to Morocco and Portugal to Colombia demonstrated the global significance of water and sanitation issues.
The first paper used geophysics and satellite data to consider water conservation in Morocco and sparked a discussion about sink holes. The complicated relationship between water resources, tourism and hot springs in the Philippines was discussed in the second paper. The decrease in temperature can be used as an indicator of over extraction of groundwater. The next two papers both looked at the treatment of landfill leachate in Colombia: Paper three discussed whether leachate can be used as a resource, for example to create useable biogas. Paper four took an experimental approach to analyse whether horizontal wetlands can be used to treat this wastewater. The fifth paper completed the trilogy of waste water treatment papers by considering how the cost of waste water treatment can be reduced by making it into a resource that people want. The sixth paper in this track linked water and energy in Portugal to find that building typologies affect energy and water use and provision. The seventh paper took us back to the Philippines to explore the socio-cultural practices and uses of Lake Lanao. This paper led to ideas about rights, access and social justice. The final paper in this track reported on experiments of using salt water in concrete manufacture to reduce the use of salt water. Read more.
Track 7a+b+c: Global in/equality and poverty, Employment and good work & Smart, inclusive and green growth - degrowth and planetary boundaries.
This small session combined contributions from three tracks featuring four presentations that brought together perspectives from four continents. Contributions featured more comprehensive frameworks of socio-ecological transformations at a world regional scale (Latin America) and of approaches to ecological compensation at the national scale (China) as well as case specific insights related to the energy sector. These included city-level analysis of the relationship between economic growth and energy consumption as well as a focus of the role of investors on a green transformation of the electricity utility sector. Together, the contributions highlighted challenges and ways forward to a greening of the economy. Despite the diversity of the contributions, a number of synergies and connections emerged, for example, around the role of GDP as indicator for growth which provide great starting points for further development of the track. Read more.
Track 8a: Gender, inclusivity and human rights
Chairs: Gabriella Arcese, Astrid Skjerven and Marzia Traverso
It was the first time that the theme was put on the agenda of the ISDRS conference. The four presentations represented very different topics: migration, gender equality and integration of disabled people. In all, they displayed thecomplexity and relevance of the theme. Methodologically, two presented major statistical investigations, two qualitative studies. The level of the presentations were generally high.
They contributions displayed the need for more knowledge on all aspects of the theme. It is therefore of vital importance to include it in ISDRS next conferences. Read more
Track 8b: Health and Well-Being
Chairs: Anna Irene De Luca & Luigia Petti
The Health and Well-being UN-Sustainable Development Goals (SDGs) address the challenges of contemporary society but the question remains on how to move current behaviours to a more sustainable state.
Very interesting causes for reflection are derived from the papers presented during the track and belonging to transversal disciplines.
In theoretical terms and from a wider perspective, a new conceptual framing of sustainability-oriented behaviour within a policy and governance context was discussed.

From a more practical point of view, useful indications came from the assessment of healthcare ecosystem in Germany aimed to identify criteria for holistically sustainable digital platforms, as well as from the statistical analysis of Turkey's current health in terms of SDGs to inform future policy making.

In the same direction the contribution of an econometric analysis of exogenous causes for under-five mortality rate directed to fill the lack of information for public policy processes more sustainability-oriented.

A multi-method research analysis about the impact of social capital on preferences and choices by the bottom-of-pyramid consumers has helped to understand how social capital can lead to differential preferences in healthcare consumer choice, and finally a study, carried out in Iceland and focused on geothermal energy, explored the interesting relation between human health, well-being and sustainability. Read more.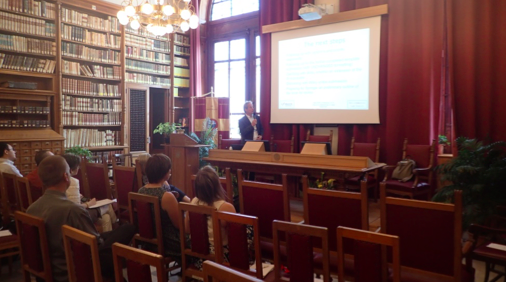 Track 9d: Law and Sustainability
Track chairs Volker Mauerhofer, Daniela Rupo and Lara Tarquino
The track consisted of five sessions of 90 min. well spread over the three conference days. In each Session, except one five presentations were held. Keeping of the time was paramount and not only for the track chairs a great challenge; especially due to the many interesting questions from the auditorium. Questions were admitted immediately after each presentation. This was the preferable format due to the wide variety of topics presented. They spread across horizontal and vertical legal aspects of sustainable development. In geographic terms, the coverage was really globally, even within individual session. Common and continental law was addressed as well as public, private and criminal law.
This year there was also a novelty with regard to the publication outcome from the track. Already on the first day just prior to the first session an informal 9d-publication meeting was held where three envisaged publication opportunities were more in detail discussed, namely
• An own Special Issue on law and sustainability with the journal "Sustainable Development"/ Wiley, Impact Factor (2016) = 2,167 (see http://onlinelibrary.wiley.com/journal/10.1002/(ISSN)1099-1719 )
• Contributions to an ongoing Special Issue with the journal "Sustainability"/ MDPI on Environmental Law and Sustainability (edited by Timo Koivurova and Volker Mauerhofer) Impact Factor (2017) = 1,789 (http://www.mdpi.com/journal/sustainability/special_issues/Environmental_Law)
• An edited volume on law and sustainability with Springer International similar to the book at http://www.springer.com/gb/book/9783319260198
The Track Chairs want to take the opportunity to thank again all the participants of the track for their excellent presentations and engaged discussion and are hoping to meet as many as possible again in the track 9d "Law and Sustainability" at ISDRS's 25th Annual Conference 2019 in Nanjing/China. Read more.

10. New Professionals Group: Survey results
Dear ISDRS members,
As part of the activities of the ISDRS New Professionals Group (NPG) towards Nanjing, China 2019, we decided to run an internal survey during August 2018 specially designed to identify and determine the priorities of our members. Different questions were asked around four axes: Social Media, Sustainability themes, PhD Workshop (Nanjing), and topics about the ISDRS Society. The survey collected interesting information in regards to preferences, social media channels and future events and helped us to establish for new goals and additional paths for upcoming activities.
See you in Nanjing 2019...
The New Professionals Group team,
11. Masters in Political Ecology,
Degrowth
and Environmental Justice
at

ICTA/Barcelona
This is the first Master of its kind, and one of the first in the world in the flourishing field of Political Ecology. The Master builds on a successful 7-year series of international Summer Schools  on Environmental Justice and Degrowth, two ongoing European Research Council projects on global environmental justice – see the Atlas of Environmental conflicts (https://ejatlas.org/) – and on urban environmental justice (http://www.bcnuej.org/). ICTA coordinated also ENTITLE, a post-graduate training network in political ecology funded by the EU. Our program benefits from the several top researchers that are currently working at ICTA (the Institute for Environmental Studies and Technology) and R&D (Research and Degrowth) in Barcelona, the two institutions co-organizing this program.
For further information and queries, visit our FAQ section or visit our website for more information.
12. Beginner's Guide to Program Evaluation
This is an introduction to program evaluation. This is meant to be an introduction, so that anyone can read this, including stakeholders, funders, beginners, people without any background in research methods or evaluation. It should be useful for anyone who is interested in learning what evaluation is, what it can do, what it cannot do, how it can be used.
In this guide, we focus on one particular kind of evaluation: program evaluation. Basically, when beginning an evaluation, program people will often want the answer to this question:
● Does the program work? And how can it be improved? However, there are many equally important questions
● Is the program worthwhile?
● Are there alternatives that would be better?
● Are there unintended consequences?
● Are the program goals appropriate and useful?
Evaluations, and those who request them, may often benefit from a consideration of all of these questions. This guide, however, focuses on the first of these issues: how program evaluation can contribute to improving program services.

Colophon
This newsletter is presented by the International Sustainable Development Research Society on a regular base to all her registered Followers and Green(+) members. If you want to receive this newsletter, please register here.
Contributions to the newsletter and announcements of relevant activities are welcomed.
Please send any contribution to the co-editors:
Olawale Olayide, Volker Mauerhofer
Email: newsletter@isdrs.org
Followers and Green(+) members are invited to share innovative, creative and critical ideas about about the further enhancement of sustainable development in a short essay form. This would have a size of between 500-2000 words, follow the general rules of academic publishing (proper references etc.), but it would fill the gap between journal/conference abstracts and official journal publications.

Disclaimer; the ISDRS is not responsible for any content displayed on the websites that are hyperlinked in this newsletter.