Track chairs Volker Mauerhofer, Daniela Rupo, Lara Tarquino
The track consisted of five sessions of 90 min. well spread over the three conference days. In each Session, except one five presentations were held. Keeping of the time was paramount and not only for the track chairs a great challenge; especially due to the many interesting questions from the auditorium. Questions were admitted immediately after each presentation. This was the preferable format due to the wide variety of topics presented. They spread across horizontal and vertical legal aspects of sustainable development. In geographic terms, the coverage was really globally, even within individual session. Common and continental law was addressed as well as public, private and criminal law.
This year there was also a novelty with regard to the publication outcome from the track. Already on the first day just prior to the first session an informal 9d-publication meeting was held where three envisaged publication opportunities were more in detail discussed, namely
An own Special Issue on law and sustainability with the journal "Sustainable Development"/ Wiley, Impact Factor (2016) = 2,167 (see http://onlinelibrary.wiley.com/journal/10.1002/(ISSN)1099-1719 )
Contributions to an ongoing Special Issue with the journal "Sustainability"/ MDPI   on Environmental Law and Sustainability (edited by Timo Koivurova and Volker Mauerhofer) Impact Factor (2017) = 1,789 (http://www.mdpi.com/journal/sustainability/special_issues/Environmental_Law)
An edited volume on law and sustainability with Springer International similar to the book at http://www.springer.com/gb/book/9783319260198
The Track Chairs want to take the opportunity to thank again all the participants of the track for their excellent presentations and engaged discussion and are hoping to meet as many as possible again in the track 9d "Law and Sustainability" at ISDRS's 25th Annual Conference 2019 in Nanjing/China.
Some impressions from the sessions and the informal meeting below:
Informal meeting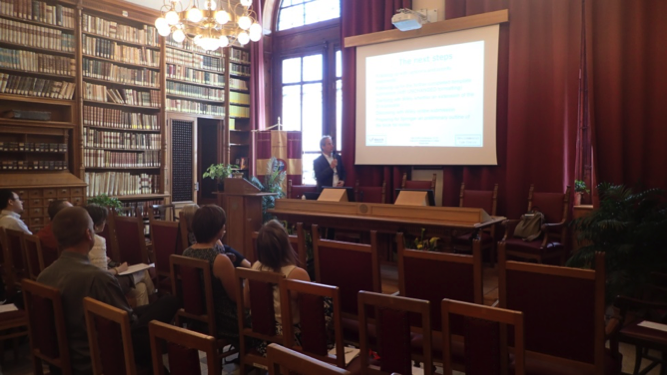 Out of the sessions